Just-in-Time: Making It Happen: Unleashing the Power of Continuous Improvement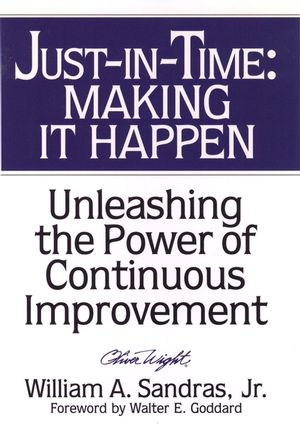 Just-in-Time: Making It Happen: Unleashing the Power of Continuous Improvement
ISBN: 978-0-471-13266-0 March 1995 384 Pages
Description
Based on his extensive experience Sandras reveals a complete procedure for successfully managing all of the challenges and possible obstacles in an actual implementation. Organizing the implementation team, developing a working Kanban system, restructuring the shop floor, creating efficient connections between suppliers and customers, measuring performance and integrating JIT with TQM are among the issues discussed.
Table of contents
Introducing High-Velocity Performance.

Organizing the Implementation Team.

Understanding Kanban.

Restructuring the Shop Floor.

Reducing and Avoiding Setups.

Simplifying Planning.

Linking to Suppliers and Customers (Purchasing, Design, Marketing, Logistics).

Challenging Accounting.

Realigning Systems and Procedures.

Developing the Thinking Worker.

Solving Problems Using Total Quality Control.

Measuring Performance.

Painting the Vision.

Taking the Next Step.

Appendices.

Index.