Listeria: A Practical Approach to the Organism and its Control in Foods, 2nd Edition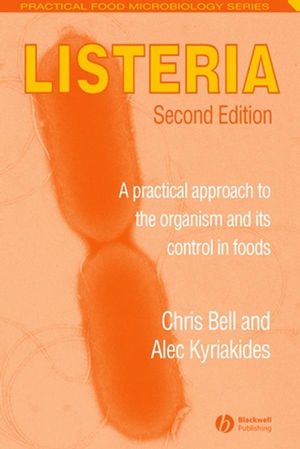 Listeria: A Practical Approach to the Organism and its Control in Foods, 2nd Edition
ISBN: 978-1-405-10618-4 March 2005 Wiley-Blackwell 296 Pages
Description
Human illness attributed to foodborne pathogenic microorganisms has been prominent in the mass media in recent years.
The Practical Food Microbiology Series
has been devised to give practical and accurate information about specific microorganisms of concern to public health. This series is unique in its practical approach as it draws on real life situations to highlight practical means for controlling pathogenic microorganisms in foods.
Listeria monocytogenes has been recognised as an animal pathogen for over 70 years, and in the last two or three decades concern has been focused on the role of food in the transmission of human listeriosis, and also on L. monocytogenes as a cause of febrile gastroenteritis.

This second edition has been fully revised and updated to include the latest information on L. monocytogenes, including its taxonomy, details of recently documented outbreaks implicating the organism, and legislation relating to the organism. The book aims to give the reader an overview of Listeria and particularly L. monocytogenes. It is primarily intended as an aid for those persons who want to understand the nature of the hazard that this organism presents to food products, and the means of controlling it.

The information is designed for use by those in the food industry working in manufacturing, retail, and quality assurance; those in associated professional sectors, e.g. healthcare; as well as students in each of these areas. The book is an invaluable tool and essential reference for all food microbiologists.
Cannot be combined with any other offers.
Cannot be combined with any other offers.
Cannot be combined with any other offers.
Cannot be combined with any other offers.
Table of contents
Foreword.
1 Background.
Introduction.
Taxonomy of Listeria spp.
Listeriosis: the illness.
Sources of Listeria species.
2 Outbreaks: causes and lessons to be learnt.
Introduction.
Coleslaw: Canada.
Vacherin Mont d'Or cheese: Switzerland.
Belgian pâté: UK.
Pork tongue in aspic: France.
Smoked Mussels: New Zealand.
Chocolate Milk: USA.
Corn salad: Italy.
Butter: Finland.
3 Factors affecting the growth and survival of Listeria monocytogenes.
General.
Temperature.
pH, water activity and other factors.
4 Industry focus: control of Listeria monocytogenes.
Introduction.
Raw-milk mould-ripened soft cheese.
Cold-smoked fish.
Cooked sliced meat and pâté.
Cooked chilled ready-meals.
Raw dried and fermented meats.
Processed fresh dairy desserts.
Prepared salads and fruit.
Generic control of Listeria.
5 Industry action and reaction.
Introduction.
Legislation and standards.
Guidelines.
Specifications.
Monitoring for Listeria spp. and L. monocytogenes.
6 Test methods.
Conventional methods.
Alternative methods.
7 The future.
Glossary of terms.
References.
Index
Features
* fully revised and updated
* Authors with many years of practical experience
* Listeria is one of the most important food-borne pathogens
* food poisoning is a subject of great media interest and public concern internationally