Semantics in Generative Grammar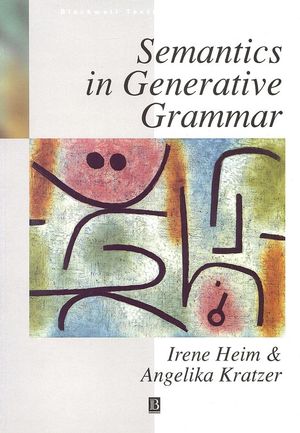 Semantics in Generative Grammar
ISBN: 978-0-631-19713-3 January 1998 Wiley-Blackwell 334 Pages
Description
Written by two of the leading figures in the field, this is a lucid and systematic introduction to formal semantics.
Table of contents
Preface.
1. Truth-conditional Semantics and the Fregean Program.
2. Executing the Fregean Program.
3. Semantics and Syntax.
4. More of English: Non-verbal Predicates, Modifiers, Definite Descriptions.
5. Relative Clauses, Variables, Variable Binding.
6. Quantifiers: Their Semantic Type.
7. Quantification and Grammar.
8. Syntactic and Semantic Constraints on Quantifier Movement.
9. Bound and Referential Pronouns and Ellipsis.
10. Syntactic and Semantic Binding.
11. E-Type Anaphora.
12. First Steps Towards an Intensional Semantics.
Index.
Reviews
"The reader gets the immediate impression that they are being invited to contribute to real work, which is inspiring. The style is easy to read and the exposition of many difficult and confusing topics is very clear.
Semantics in Generative Grammer
is really an
advanced
introduction, and is a good example of how advanced-level texts should be organized...essential reading"
Jennifer Spenader, University of Groningen, The Netherlands
"This elegant and thorough text will take the reader through many of the advances in linguistic semantics during the past 25 years of generative grammar. It is a fine achievement by two of the most prominent researchers, and teachers, of the subject." James Higginbotham, University of Oxford

"This book shows that natural language semantics has reached its maturity. A careful and enlightening discussion guides the reader through the intricacies of argument structure, quantification, and binding, some of the very central topics in semantics and in the syntax/semantics interface. Traditional techniques from logic are presented in a way aimed at bringing out what is really important to the study of language. An excellent introduction for the linguist-to-be." Gennaro Chierchia, University of Milan

"This superb new introduction to formal semantics in linguistic theory helps and invites teh serious beginner to think through arguments among potential alternatives right from the start. It's a great textbook." Barbara Partee, University of Massachusetts
Features


The first overview of semantics within generative grammar.


Teaches students the craft of doing semantics.


Written by arguably the two leading figures in the field.


Exercises check understanding and direct students towards further projects.


Serves as a reference work for linguists and as a course book for students.


Takes into account the most recent developments in semantics.