Trade Secrets for Nonprofit Managers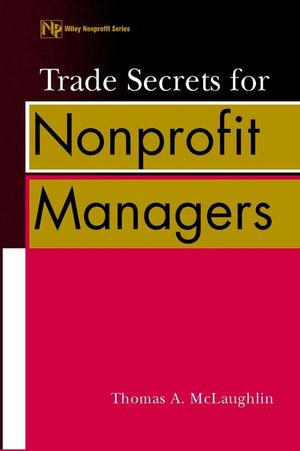 Trade Secrets for Nonprofit Managers
ISBN: 978-0-471-38952-1 January 2001 240 Pages
Download Product Flyer
Download Product Flyer
Download Product Flyer is to download PDF in new tab. This is a dummy description. Download Product Flyer is to download PDF in new tab. This is a dummy description. Download Product Flyer is to download PDF in new tab. This is a dummy description. Download Product Flyer is to download PDF in new tab. This is a dummy description.
Description
Become a More Effective Manager-and Have More Fun Doing It

From the nonprofit world's most beloved columnist come easy lessonson how to become a better, and happier, manager. This book weavestogether many of the most important ideas found in ThomasMcLaughlin's hugely popular Nonprofit Times columns into a highlyentertaining, motivating, and educational guide for nonprofitmanagers. McLaughlin's affable but always dead-on treatment of therealities of the nonprofit world provides managers with a bold newperspective on their industry and their roles in it. The book showshow essential it is to managers' well-being to keep in mind thatthey are more than the sum of their individual tasks, and it offersthe support that so often eludes them.

Trade Secrets for Nonprofit Managers arms you with valuable toolsand tips for professional and organizational development and showsyou how to:
* Use the unspoken truths of nonprofit management
* Make the connection between vision and mission
* Challenge the subtly counterproductive niceties affordednonprofits in order to get things done

Get informed, inspired-and entertained-with this one-of-a-kindguide to one of the fastest growing sectors in our economy.
Cannot be combined with any other offers.
Table of contents
Acknowledgments.

Introduction.

VISION.

Dreams and Actions.

MISSION.

The Art of the Mission Statement, or Why the Writing Should Beon the Wall.

The Life Cycles of Nonprofit Organizations.

The Death (and Rebirth) of Advocacy.

The End of a Mission.

STRATEGY.

The Art of Strategic Positioning.

Don't Just Manage, Lead.

The Strategic Agenda.

How Everyone Can Be a Strategist.

Making Management Your Business.

The Iron Triangle.

How to Improve Quality Ten Different Ways.

What Your Funding Sources Want from Managed Care.

The Core Competence of the Nonprofit Corporation.

A Different Kind of Growth.

Collaborating to Compete.

The Power of Social Enterprise.

Needed: Clearly Marked Exits.

ORGANIZATIONAL STRUCTURE.

The New Organizational Chart.

The Permanent Labor Shortage.

It's 2010: Do You Know Who Your Executive Director Is?

Why Mergers Fail, and What To Do About It.

Boys and Girls.

Managing Different Kinds of Diversity.

Why Board Members Wake Up at 3:00 a.m.

Why "Corporate" Board Members May Fail.

The Structure of National Boards of Directors.

The Natural Laws of Task Forces, Committees, and Boards ofDirectors.

In Praise of Hidden Government Subsidies.

The Rise of the ASO.

Proactive Management through Benchmarking.

Giving Diligence Its Due.

Related Parties.

Down With Geography, or Why You Have Service Gaps.

Rethinking the United Way Gilt by Association: Why AssociationsMust Reshape Themselves.

The Business of Trade Shows.

RESOURCES.

Profit: Why, and How Much.

Why Capitalization Is Not a Four-Letter Word.

In Cash There Is Opportunity.

Indirect Secrets, or Why Nonprofits Will Never Have $80Screwdrivers.

Critical Juncture Financing.

Where to Find Cost Savings.

Recovering from a Case of Parentheses.

Soliciting Mistrust.

How to Transfer a Few Trillion Dollars.

Donor Advised Funds: New Kids Change the Block.

Index.