Jersey Norman French: A Linguistic Study of an Obsolescent Dialect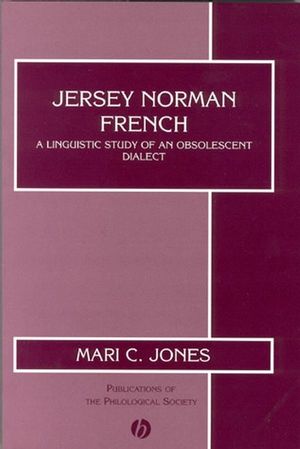 Jersey Norman French: A Linguistic Study of an Obsolescent Dialect
ISBN: 978-0-631-23169-1 December 2001 Wiley-Blackwell 256 Pages
Description
This book is the first to present a comprehensive linguistic study of


Jersey Norman French. Drawing on a corpus of original data, it offers


historical and dialectological sketches, an assessment of language


planning on Jersey, and an account of language change in progress. It


also establishes the relevance of Jersey Norman French to the field of


language obsolescence.
Acknowledgements.
List of Figures.
List of Maps.
List of Tables.
1. Introduction 1
2. The Sociohistorical Setting 7
3. The Jerriais Dialect 18
4. A Sociolinguistic Profile of the Jerriais Speech Community 45
5. Language Planning on Jersey 70
6. Linguistic Developments in Modern Jerriais 97
7. Lexical Erosion in Modern Jerriais 140
8. Cross-linguistic Influence on Jersey 156
9. Conclusion 181
Appendix 1. List of Informants According to Parish of Origin 191
Appendix 2. Figures Illustrating Results Discussed in Chapter 7 192
Notes 212
References 222
General Index 231
Index of Authors 235
Index of Languages and Dialects 238
The first book of its kind written about Jersey Norman French
Original data

A multi-faceted approach

Readers interested in Jersey Norman French for a wide variety of reasons will find material germane to their own preoccupations