Evidence-Based Resource in Anaesthesia and Analgesia, 2nd Edition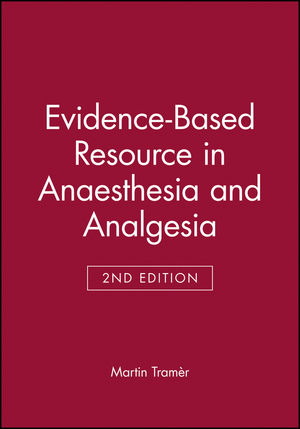 Evidence-Based Resource in Anaesthesia and Analgesia, 2nd Edition
ISBN: 978-0-470-75021-6 April 2008 BMJ Books 208 Pages
Description
This work discusses the methodology and available evidence from systematic reviews on the current best practice in anaesthesia and analgesia. The first edition is built upon in this thoroughly revised and updated text. Contributions are from acknowledged world authorities on systematic review in the specialty. The free access website continues to provide added detail on the literature.
Table of contents
Contributors.
Introduction.
Part I: Evidence-based medicine, randomised trials, and systematic reviews.
1 Is evidence-based medicine still an option? Neville W. Goodman.
2 Why do we need large randomised trials in anaesthesia and analgesia? Paul S. Myles.
3 Why do we need systematic reviews in anaesthesia and analgesia? R. Andrew Moore.
Part II: Systematic reviews in anaesthesia and analgesia.
4 Acute pain, Henry J. McQuay.
5 Peripheral treatment of postoperative pain, Steen Møiniche & Jørgen B. Dahl.
6 Epidural analgesia for labour and delivery, Stephen Halpern & Barbara Leighton.
7 Intravenous fluids for resuscitation, Peter T.-L Choi.
8 Postoperative nausea and vomiting, Martin R. Tramèr.
9 Propofol for anaesthesia and sedation, Bernhard Walder & Martin R. Tramèr.
10 Preventing central venous catheter related complications, Mehrengise K. Cooper & Adrienne G. Randolph.
Part III: Dissemination, implementation, and research agenda.
11 The Cochrane Collaboration — what is it about? Tom Pedersen.
12 Cost effectiveness of anaesthesia and analgesia, Ceri J. Phillips.
13 From evidence to implementation, Anna Lee & Tony Gin.
14 Postoperative epidural analgesia and outcome — a research agenda, Kathrine Holte & Henrik Kehlet.
Index
Reviews
"a good overview of EBM for some important aspects of the specialty. The book is fairly easy to read and will be a useful tool for anaesthetists and any physician involved in postoperative care. " - British Journal of Anaesthesia