The Sports Event Management and Marketing Playbook, 2nd Edition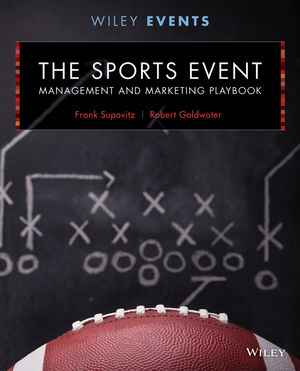 The Sports Event Management and Marketing Playbook, 2nd Edition
ISBN: 978-1-118-80612-8 September 2013 512 Pages
Download Product Flyer
Download Product Flyer
Download Product Flyer is to download PDF in new tab. This is a dummy description. Download Product Flyer is to download PDF in new tab. This is a dummy description. Download Product Flyer is to download PDF in new tab. This is a dummy description. Download Product Flyer is to download PDF in new tab. This is a dummy description.
Description
As a sporting event planner, how do you keep up with the trends of the ticket buying public, sponsorship and merchandising while at the same time attending to the hundreds of management and operational details required to execute the event? A successful sports event requires a planner that can read signals from their market and plan strategically to maintain sponsors and fill an arena.
Table of contents
Foreword xi
Series Editor Foreword xiii
Preface xv
Acknowledgments xix
Introduction 1
The Power of Sports Event Marketing 1
The Evolution of Sports Event Marketing 3
Your Introductory Play—Supovitz's Flying Wedge 4
The Sports Event Golden Rule—Understanding Stakeholders' Objectives (USO) 6
Current Trends in Sports Event Management and Marketing 8
PLAY 1 Defining and Developing Objectives, Strategies, and Tactics 11
Introduction 12
The P-A-P-E-R Test 13
Post-Play Analysis 26
Coach's Clipboard 27
PLAY 2 Identifying Costs 29
Introduction 29
Facility Costs 30
Player- and Game-Related Expenses 36
Event Operations Expenses 38
Marketing and Promotion Expenses 39
Sponsor Fulfillment Expenses 40
Guest Management and Hospitality
Expenses 41
Event Presentation Expenses 42
Capital Investment and Amortization 43
Miscellaneous Expenses and Contingency Allowances 45
Reforecasts 45
Post-Play Analysis 46
Coach's Clipboard 46
PLAY 3 Identifying Revenue Streams 47
Introduction 47
Ticket Sales 48
Sponsorship and Advertising 54
Merchandise 57
Concessions and Food and Beverage Sales 59
Broadcasting 60
Tournament and Participation Fees 61
Grants and Donations 61
Miscellaneous Revenues 62
Balancing the Books 62
Reforecasts 65
Post-Play Analysis 66
Coach's Clipboard 67
PLAY 4 Soliciting and Selecting Host Cities and Venues 69
Introduction 69
What Host Cities Really Want from Sports Events 71
What Sports Events Really Want from Host Cities 77
What Event Facilities Really Want from Sports Events 86
What Sports Event Organizers Want from Event Facilities 88
Selecting a Facility 93
Post-Play Analysis 93
Coach's Clipboard 94
PLAY 5 Starting the Clock on the Sports Event Planning Process 95
Introduction 95
Identify and Analyze Management Tasks 96
Build a Support Organization 106
Find the Right People 111
Manage Your Support Organization 116
Post-Play Analysis 118
Coach's Clipboard 118
PLAY 6 Understanding the Sports Event–Sponsor Relationship 121
Introduction 121
The Roots of Sports Event Sponsorship 123
What Sports Event Organizers Really Want from Sponsors 125
What Sponsors Really Want from Sports Events 130
Know Your Sponsors 149
Post-Play Analysis 154
Coach's Clipboard 154
PLAY 7 Teaming with Sponsors 157
Introduction 157
Scaling and Pricing Sponsorship Packages 158
The Sales Process 168
How to Design the Sponsorship Program 178
Don't Just Take Our Word for It 189
The Decision-Making Process 189
The Sponsor's Point of View 191
Finalizing the Deal 194
Now, Service Your Sponsors! 196
Post-Play Analysis 196
Coach's Clipboard 196
PLAY 8 Maximizing and Servicing the Media Partnership 199
Introduction 199
The Two Faces of the Media 200
What the Editorial Side Really Wants from Sports Events 202
The Campaign for Attention 212
Servicing the Media at the Event Site 217
Media Center Facilities 221
A Note about Talking to the Media 228
Media Coverage and Media Partners 229
Post-Play Analysis 229
Coach's Clipboard 230
PLAY 9 Activating the Sports Event Marketing Plan 231
Introduction 231
What Media Partners Want from a Sports Event Relationship 232
What Sports Event Organizers Want from a Media Partner 234
Selecting Media Partners 236
Sports Event Promotions 240
Effective Sports Event Advertising 248
Event Marketing 254
Social Media 256
Post-Play Analysis 260
Coach's Clipboard 260
PLAY 10 Engaging the Community 261
Introduction 262
Identifying the Gatekeepers 264
Impacting the Local Environment 272
Focusing and Managing Community
Enthusiasm 272
Moving Forward 278
Post-Play Analysis 280
Coach's Clipboard 280
PLAY 11 Accommodating and Managing Guests 281
Introduction 281
Selling Tickets 283
Losing Sleep 101—What to Do if Tickets Are Not Selling 290
Guest Management 293
Hotel Management 299
Post-Play Analysis 307
Coach's Clipboard 308
PLAY 12 Presenting Your Event 309
Introduction 309
Ceremonies and Entertainment Elements 311
Production Planning 315
Scheduling Rehearsals 323
Technical Tools of Sports Event Production 329
Pyrotechnics 337
Supovitz's Theory of Event Flow 338
Post-Play Analysis 339
Coach's Clipboard 340
PLAY 13 Working with Broadcasters 341
Introduction 341
What Broadcasters Want from Sports Events 342
What Sports Events Organizers Want from Broadcasters 347
Broadcaster–Sports Event Business Relationships 348
Working with Broadcast Producers 351
"One Event—One Audience" 353
Post-Play Analysis 355
Coach's Clipboard 356
PLAY 14 Managing for the Unexpected 357
Introduction 357
Risk Assessment and Management 358
Analyzing Risk Exposure and Possible Outcomes 358
Safety and Security 360
Remedying and Responding to Risk Exposure 363
Reacting to Emergencies 373
Acknowledging the World Condition 375
Communications 376
Tie Down the Details 378
Post-Play Analysis 379
Coach's Clipboard 379
PLAY 15 Reviewing the Game Tapes 381
Introduction 381
Post-Event Publicity 382
Recognition 384
Settlement 384
Postmortem 385
The Game Ends . . . 386
Post-Play Analysis 386
Coach's Clipboard 387
PLAY 16 Planning Your Future in Sports Event Management and Marketing 389
Introduction 389
Communication Skills 390
Gaining Experience 391
Choosing the Right Company 394
A Final Story 396
Post-Play Analysis 396
Coach's Clipboard 397
Appendix 1: Event Expense Budget Worksheet 399
Appendix 2: Event Revenue Budget Worksheet 407
Appendix 3: Sample Host City Request for Proposal 411
Appendix 4: Request for Proposal Evaluation Form 425
Appendix 5: Sample Facility Event License Agreement 429
Appendix 6: Facility Selection Survey Form (simplified) 437
Appendix 7: Sample Sports Event Sponsorship Deck 441
Appendix 8: Sample Sponsorship Agreement 453
Appendix 9: Sports Event Participant Release 457
Appendix 10: Sample Sports Event Rundown (pre-event) 459
Appendix 11: Sport Management Programs: United States 463
Appendix 12: Sports Industry Career Resources 475
Online Appendices
Appendix 13: Sample Event Pocket Guide (One-sheet, two-sides)
Appendix 14: Simple Accreditation Plan
Appendix 15: Checklist of Public Address Announcements
Appendix 16: Sample Event Day Checklist
Appendix 17: Glossary of Common Terms For Sports Event Management and Marketing www.wiley.com/college/supovitz
Index 479
New To This Edition
New and updated charts and figures to ensure that every detail is considered before the gates open and the score clock begins its inexorable countdown.
Updated Sideline Stories include more current real-life anecdotes from the field that were a favorite feature of the previous edition. These stories provide vivid examples of best practices, as well as plays that were proven best to avoid.
Updated Post-Play Analysis chapter summary sections and Coach's Clipboard review questions reflect new content per chapter.
An expanded section of useful forms, sample documents, and checklists that can be accessed in the appendices at the end of the text.
Features
Provides a broad, comprehensive overview of how to begin visioning, planning, funding, and ultimately producing sports events.
Stories from the Sidelines give professionals and students real life examples of the development, management and execution of sports events.
Coach's Clipboard feature questions and thought-provoking intellectual exercises designed to build confidence in the student by applying the lessons of the chapter to hypothetical situations.
Practical checklists, tables, figures, and forms included in each chapter.