A History of Ancient Greece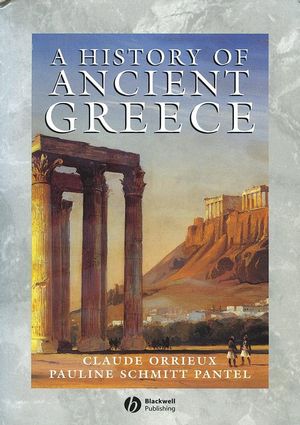 A History of Ancient Greece
ISBN: 978-0-631-20309-4 December 1999 Wiley-Blackwell 452 Pages
Description
This is a major, single-volume introduction to the whole of Ancient Greek History. It covers the period from the Golden Age of Knossos and Mycenae to the incorporation of Greece into the Roman empire in the second century BC and the transfer of Greek culture to Byzantium in the fourth century AD.
Cannot be combined with any other offers.
Table of contents
Acknowledgements.
Translator's Note.
Figures.
Foreword.
A Country.
1. The Greek World's Earliest Times:.
The Bronze Age.
The Iron Age.
2. The Archaic World:.
The Birth Of Civic Communities.
Emigration And The New Cities.
The Forms Of Power.
The Peoples And Cities Of Greece: An Impressionistic Picture.
An Aristocratic Culture.
3. The Classical Period:.
The Fifth Century: New Institutions In Athens.
Greeks And Persians.
Hegemony And Democracy.
Relations Between The Cities: Wars And Truces.
A Democratic Culture.
Society And The Economy In The Classical Period.
Polytheism And Religious Life.
4. The Classical Period: The Fourth Century:.
The End Of Classical Hegemonies.
The Age Of Eloquence.
The Macedonian Peace: From One Common Peace Into Another (355-336).
Alexander The Great.
The Failure of The Macedonian Peace (323-281).
5. The Hellenistic Period: The Balance Of Power: A World At War (281-220):.
A World At Peace.
The End Of Greek History.
Conclusion.
The Sources.
Chronological Table.
Lexicon.
Guide to Further Reading.
Index.
Reviews
"This will make an excellent textbook. Everyone teaching Greek history complains constantly of the lack of a good book. This one has a good balance of narrative and social/economic history. It's also unusual in trying to cover all areas of Greece, not just Athens and Sparta. I should add that I've read a couple of other Greek history textbooks in preparation for other publishers in the last couple of years, and this book is head-and-shoulders above the rest. It's a really good book."
Ian Morris, Stanford University
<!--end-->
" ... presents both an elegant narrative and an interesting assessment of the Hellenistic world" Greece and Rome

"... innovative ... While the traditional 'glories' of Greek history - the classical period, the history of Athens - are excellently handled, this is not at the expense of less frequently covered terrain." Times Higher Education Supplement
Features
* Covers whole of Greece and the Greek diaspora up to the fourth century AD.
* User-friendly in lay-out and organization.
* Takes into account the range of recent scholarship.