A History of Russia, Central Asia and Mongolia, Volume I: Inner Eurasia from Prehistory to the Mongol Empire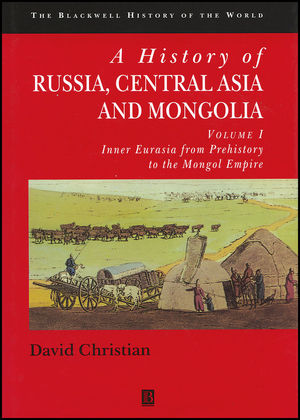 A History of Russia, Central Asia and Mongolia, Volume I: Inner Eurasia from Prehistory to the Mongol Empire
ISBN: 978-0-631-20814-3 December 1998 Wiley-Blackwell 498 Pages
Description
This is a history of Russia, Central Asia and Mongolia from the time of the first inhabitants of the region up to the break up of the Mongol Empire in 1260AD.
Table of contents
Contents.
Introduction.
1. The Geography and Ecology of Inner Eurasia.
2. First Settlers: The Old Stone Age.
3. Hunters and Gatherers after the Ice Age.
4. The Neolithic Revolution: Seventh to Third Millennia BCE.
5. The Bronze Age: 3,000-1,000 BCE.
6. The 'Scythic' Era: 1,000-200 BCE.
7. Outer Eurasian Invasions and their Aftermath.
8. The Hsiung-Nu Empire.
9. 'Barbarian' Invasions before 500 CE.
10. Turkic Empires of the East.
11. Turkic Empires of Wester Inner Eurasia.
12. Mawara'n-nahr: Islamic Civilization in Central Asia.
13. The Origins of 'Rus'.
14. Before the Mongols: 1000-1220.
15. Chinggis Khan.
16. The Mongol Empire and a New 'World-System'.
Conclusion.
Bibliography.
Chronologies.
Index.
Reviews
"Overall, this is an excellent book. It is rich in detail and has a good blend between description and history. It is everywhere fair and balanced in its interpretations. It is well written and well produced with good illustrations, maps, a useful chronology which divides the region into west, centre and east, and an excellent and extensive, albeit overwhelmingly English-language bibliography. Perhaps most important of all, although the histories of the various areas of concern to this book are reasonably well trodden paths, it crafts a new interpretation by taking up a distinct area of focus - inner Eurasia - and succeeds admirably in convincing the reader of the significance and interest of that region's history. I strongly recommend the book."
Asian Ethnicity Journal
"Well-written, impressive and bold synthesis ... One looks forward eagerly to volume 2." The Russian Review

"Big picture history requires energy, openness and risk taking, a willingness to escape from the well-worn grooves of academe ... Christian has effected a great escape." Journal of Asian Studies
Features


A vivid narrative of the earliest history of Russia, Central Asia and Mongolia.

Provides background to the great European migrations known as "barbarian invasions".

Charts the rise and fall of the Mongol Empire.