Soils of the Past: An Introduction to Paleopedology, 3rd Edition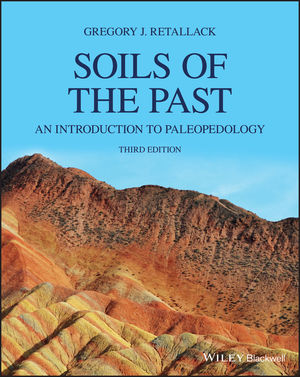 Soils of the Past: An Introduction to Paleopedology, 3rd Edition
ISBN: 978-1-119-53040-4 August 2019 Wiley-Blackwell 552 Pages
Description
A student-friendly textbook that describes ancient soils, how they may be identified, and their use in paleoenvironmental reconstruction
Ancient soils contain vital mineralogical, geochemical, textural, and paleontological information about the continental environments in which they formed. Advances in isotope geochemistry and sequence-stratigraphic models allow evermore detailed reconstructions of environmental change from paleosols, and new insights into such diverse topics as atmospheric chemistry, global change, paleoecology, geobiology and mass extinction. This book educates readers about the field of paleopedology and how it remains a key area of investigation for geologists and environmental scientists seeking to learn about, and reconstruct, the condition and evolution of paleoenvironments.
Presented in three sections—Soils and Palesols; Factors in Soil Formation; and Fossil Record of Soils—Soils of the Past: An Introduction to Paleopedology describes the main types of ancient soil, procedures for identifying and studying them, their classification and, most significantly, a wide array of examples of how paleosols have been used for paleoenvironmental reconstruction. The book is an excellent reflection of the current state of knowledge and can be widely adopted over many disciplines.
All chapters have been revised and updated to reflect advances in soil science in the last two decades
New tables display a wealth of new data added since the 2nd edition published in 2001
New figures have been added and line art has been redrawn to improve clarity and promote understanding
References have been updated throughout
Soils of the Past, 3rd Edition is written for advanced undergraduates studying paleopedology as part of a degree in geology, environmental science, or physical geography, and for interested professional earth scientists.
Table of contents
Part one: Soils and paleosols
Chapter 1 Paleopedology
Chapter 2 Soils on and under the landscape
Soils and paleosols on the landscape
Quaternary paleosols
Paleosols at major unconformities
Paleosols in sedimentary and volcanic sequences
Chapter 3 Features of fossil soils
Root traces
Kinds of roots
Patterns of root traces
Rhizoconcretions
Drab-haloed root traces
Soil horizons
Kinds of horizons
Describing soil horizons
Soil structure
Structural elements
Peds
Cutans
Glaebules
Crystals
Pedotubules
Microfabric
Chapter 4 Soil-forming processes
Indicators of physical weathering
Loosening
Fluid flow
Clay swelling
Fire heating
Freezing
Indicators of chemical weathering
Acidification
Oxidation
Hydration
Salinization
Indicators of biological weathering
Humification
Nutrient consumption
Bioturbation
Soil respiration
Common soil-forming processes
Gleization
Podzolization
Lessivage
Ferrallitization
Calcification
Salinization
Chapter 5 Soil classification
F.A.O. world map
U.S. taxonomy
Diagnostic horizons and properties
Entisol (incipient soil)
Inceptisol (young soil)
Andisol (volcanic ash soil)
Histosol (peaty soil)
Vertisol (swelling clay soil)
Mollisol (grassland soil)
Aridisol (desert soil)
Gelisol (permofrost soil)
Spodosol (sandy forest soil)
Alfisol (fertile forest soil)
Ultisol (infertile forest soil)
Oxisol (deeply weathered soil)
A word of caution
Chapter 6 Mapping and naming paleosols
Paleoenvironmental studies
Stratigraphic studies
Deeply weathered rocks
Chapter 7 Alteration of paleosols after burial
Burial decomposition of organic matter
Burial gleization of organic matter
Burial reddening of iron oxides and hydroxides
Cementation of primary porosity
Compaction by overburden
Illitization of smectite
Zeolitization and celadonitization of volcanic rocks
Coalification of peat
Kerogen maturation and cracking
Recrystallization of carbonate
Metamorphism
Common patterns of alteration
Part two: Factors in soil formation
Chapter 8 Models of soil formation
Chapter 9 Climate
Classification of climate
Indicators of precipitation
Depth to calcic horizon
Depth to gypsic horizon
Desert pavements
Pedocals and pedalfers
Hydrolytic chemical alteration
Clay minerals
Histosols, peats and coals
Karstification
Indicators of temperature
Permafrost structures
Oxygen isotope composition
Intensity of chemical alteration
Spherical micropeds and termite nests
Laterites and bauxites
Indicators of seasonality
Thickness of nodular carbonate
Variation in clumped isotopic paleotemperature
Carbon isotopic composition
Mukkara and gilgai
Concretions and argillans
Patterns of root traces
Charcoal
Indicators of atmospheric greenhouses
Chapter 10 Organisms
Traces of organisms
Microbes
Fungi
Lichens
Liverworts and mosses
Vascular plants
Nematodes
Molluscs
Annelids
Velvet worms
Water bears
Crustaceans
Millipedes and centipedes
Horseshoe crabs
Scorpions
Spiders
Mites
Springtails and wingless insects
Butterflies and moths
Lacewings
Caddis flies
Crickets
Bugs
Beetles
Termites
Ants
Wasps
Bees
Fish
Amphibians
Reptiles
Birds
Mammals
Traces of ecosystems
Early successional vegetation
Forest and woodland
Rain forest
Oligotrophic forest
Heath
Dry woodland
Wooded grassland
Wooded shrubland
Fire-prone shrubland
Open grassland
Shrubland
Brakeland
Polsterland
Desert scrub
Microbial earth
Microbial rockland
Taiga and krummholz
Tundra and alpine fellfield
Bog
Marsh
Fen
Salt Marsh
Swamp
Carr
Mangal
Fossil preservation in paleosols
Preservation as a function of soil chemistry
Preservation as a function of time
Completeness of the fossil record
Chapter 11 Topographic relief as a factor
Indicators of past geomorphic setting
Soil creep
Unconformities
Erosional planes
Gilgai microrelief
Salt crusts
Cumulic horizons
Indicators of past water table
Soil horizons
Root traces
Burrows
Soil structure
Soil nodules
Microfabric
Interpreting paleocatenae
Lateral variation of paleosols
Vertical variation of paleosols
Chapter 12 Parent material as a factor
General properties of parent materials
Uniformity
Induration
Grain size
Crystallinity
Mineral Composition
Chemical composition
Some common parent materials
Till
Loess
Alluvium
Marine sediment
Schist
Limestone
Granitic rocks
Basaltic rocks
Ultramafic rocks
Volcanic ash
A base line for soil formation
Assumption 1: parent material is fresh
Assumption 2: parent material is uniform
Assumption 3: one constituent is stable
Assumption 4: volume change is proportional to thickness and density
Quantifying soil and paleosol development
Chapter 13 Time as a factor
Indicators of paleosol development
Calcic (Bk) horizon development
Clayey subsurface (Bt) horizon development
Peat accumulation
Mineral weathering
Weathering rinds
Combinations of features
Accumulation of paleosol sequences
Hillslope development
Alluvial architecture
Completeness of the rock record
Sequence stratigraphy of paleosols
Part three: Fossil record of soils
Chapter 14 A long term natural experiment in pedogenesis
Chapter 15 Soils of other worlds
Soils of the Moon
Soil composition
Soil development
Soils of Venus
Soil composition
Soil development
Soils of Mars
Soil composition
Soil development
Meteorites
Carbonaceous chondrites
Mesosiderites and howardites
Relevance to early Earth
Chapter 16 Earth`s earliest landscapes
Oxygenation of the Earth`s atmosphere
Pre-Huronian (2450 Ma) paleosols of Ontario, Canada
Pre-Torridonian (810 Ma) paleosols of northwest Scotland
Acid sulfate alluvial paleosols
Calculating atmospheric oxidation from paleosols
Differentiation of continental crust
Bauxites
Laterites and Oxisols
Calcretes
Silcretes
Karst
Periglacial soils
Calibrating continental emergence from paleosols
Precambrian scenery
Chapter 17 Early life on land
Did life originate in soil?
Soup, spa or soil?
Role of clays
Role of iron minerals
Soil as a form of protolife
A scenario of selfish soil
Evidence for early life in paleosols
Microfossils
Megafossils
Trace fossils
Soil structure
Geochemical traces of life
Antiquity of life in soil
Mother Earth or Heart of Darkness?
Chapter 18 Large plants and animals on land
Evidence of multicellular organisms in paleosols
Liverwort-millipede polsterlands
Tracheophyte-trigonotarbid brakelands
Salt marsh and marsh
A timetable
How did multicellular soil organisms arise?
Origin of land plants
Origin of land animals
Ecology and environment of early Paleozoic life on land
Biological innovation or environmental regulation?
Blanketing bogs
Taming streams
Filtering air
Chapter 19 Afforestation of the land
Early forest soils
Alfisols
Ultisols
Spodosols
Origin of forest ecosystems
A diversifying landscape
Entisols
Gelisols
Inceptisols
Andisols
Histosols
Vertisols
Aridisols
Oxisols and duricrusts
A near modern world
A finer web of life on land
Soil invertebrates
Early land vertebrates
Dinosaurs
Angiosperms
Crisis and recovery
The shape of evolution
Chapter 20 Grasses in dry continental interiors
Early grassland soils
Dry Oligocene rangelands of South Dakota
Mid-Miocene short sod grasslands of Kenya
Late Miocene tall sod grasslands of Oregon
A timetable
Evolutionary processes
Speciation
Natural selection
Coevolution
How did grasslands arise?
Mountain uplift?
Ocean current isolation?
Grassland geoengineering?
Chapter 21 Human impact on landscapes
Human origins
Early Miocene forests of southwestern Kenya
Mid-Miocene grassland mosaic of southwestern Kenya
Late Miocene woodlands of northern Pakistan
Pliocene woodlands of Ethiopia
Initial steps to humanity
Early human ecology
Pliocene grassland mosaic of Kanapoi
Pliocene grassland mosaic of Hadar and Laetoli
Plio-Pleistocene grassland mosaic of Koobi Fora
Plio-Pleistocene grassland mosaic of Olduvai Gorge
Early human land use
A tamed landscape
Acidification of the British Lake District
Desertification of Greece
Soil worship
References
Glossary
Index