Glycogen Synthase Kinase 3 (GSK-3) and Its Inhibitors: Drug Discovery and Development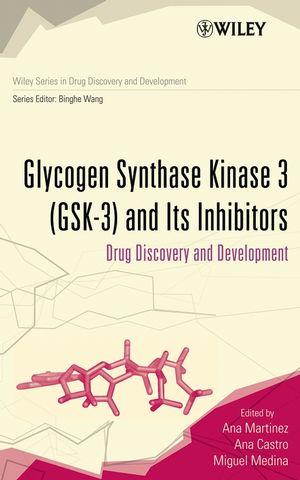 Glycogen Synthase Kinase 3 (GSK-3) and Its Inhibitors: Drug Discovery and Development
ISBN: 978-0-470-05215-0 October 2006 384 Pages
Description
Many researchers believe that GSK-3 and its inhibitors could lead to effective treatments for neurogenerative disorders, type II diabetes, depression and bipolar disorder, and some forms of cancer. This book provides a thorough introduction to GSK-3, presents up-to-date information, and mentions the birth of several chemical families of GSK-3 inhibitors with varying selectivity. It's a great reference for researchers in drug design and development.
Table of contents
Foreword: The Origins of GSK-3. Preface. Acknowledgments. Contributors. Abbreviations. 
PART I: CELLULAR FUNCTIONS OF GSK-3.
1. Glycogen Synthase Kinase-3 - an Introductory Synopsis  . 2. Glycogen-Synthase-Kinase-β (GSK-3β) a Key Signaling Enzyme: A Developmental Neurobiological Perspective. 3. Role of GSK3/Shaggy in neuronal cell biology. 4. The
Crystal
Structures of Glycogen Synthase Kinase 3. 5. Kinase-Kinase and Site-Site Interactions in the Phosphorylation of Tau by GSK-3.
PART II: GSK3 AS A THERAPEUTIC TARGET IN HUMAN PATHOLOGY.
6. GSK-3, a Key Player in Alzheimer's Disease. 7. Glycogen Synthase Kinase-3: A Target for Novel Mood Disorder Treatments. 8. GSK3 and Stem Cells. 9. Glycogen Synthase Kinase-3: role in Neurodegeneration and Neuroprotection. 10. Protein Kinase Inhibitors. Assay Development. 11. Animal Models with Modified Expression of GSK-3 for the Study of Its Physiology and of Its Implications in Human Pathologies.
PART III: GSK-3 INHIBITORS: DEVELOPMENT AND THERAPEUTIC POTENTIAL.
12. Lithium, the Seminal GSK3 Inhibitor. 13. Inhibition of GSK3 as Therapeutic Strategy in Disease: Efficacy of AR-A014418. 14. TDZD's: Selective And ATP Non Competitive Glycogen Synthase Kinase-3 Inhibitors. 15. 3-Amino Pyrazoles as Potent and Selective Glycogen Synthase (GSK-3) Inhibitors. 16. Marine compounds as a new source for Glycogen Synthase Kinase-3 Inhibitors. Index.