Marketing Hospitality, 3rd Edition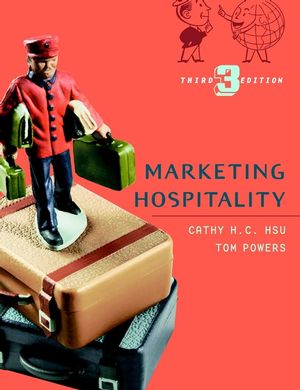 Marketing Hospitality, 3rd Edition
ISBN: 978-0-471-21606-3 March 2002 384 Pages
Description
The main objective when marketing any product is to make your product attractive to potential customers and/or a particular market. In hospitality specifically, marketing refers to the process of how a restaurant, hotel, travel business, or resort can sell itself in a competitive marketplace. As marketing becomes increasingly important to the success of today's businesses, this book provides future hospitality professionals with an important career-building resource for virtually every area of the field. Marketing Hospitality is appropriate for Introductory Hospitality Marketing courses that provide the basic foundations of marketing theory and applications.
Table of contents
Preface.

Marketing--Everybody's Job.

Hospitality Services.

The Macro and Micro Environments of Hospitality Marketing.

Market Segmentation and Targeting Marketing.

Marketing Information and Research.

Marketing Strategy.

The Marketing Plan.

The Hospitality Product.

Place in Hospitality Marketing: Distribution.

Place in Hospitality Marketing: Location.

The Price of Hospitality.

Marketing Communication: Advertising.

Marketing Communication: Sales Promotion, Public Relations/Publicity, and Personal Selling.

Marketing at the Unit Level.

Index.
New To This Edition
New co-author, Cathy Hsu, who has taught Hospitality Marketing at two large programs, Iowa State University and cur-rently, Kansas State University, brings a fresh voice and an extensive industry background in hospitality marketing
Features a strong, well-rounded approach to the subject, with sound coverage of marketing theory, strategy, and applica-tions
Emphasis on practical uses of marketing utilizing Case Histories drawn from a broad range of hospitality operations
Significant changes in 65% of the chapters
Features
Combines marketing theory with strong practical emphasis on industry applications.
Covers the basics of marketing research, segmentation, and targeting, as well as branding, distribution, location, pricing, and communication.
Strong treatment of marketing planning and strategy, including step-by-step guidance on developing an effective marketing plan.
Offers valuable pedagogical tools including chapter-end summaries, reviews of key words and concepts, and Internet resources & discussion questions.