On the Sublime in Psychoanalysis, Archetypal Psychology and Psychotherapy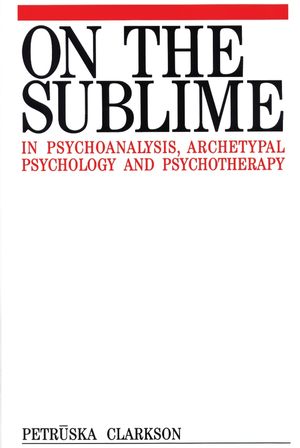 On the Sublime in Psychoanalysis, Archetypal Psychology and Psychotherapy
ISBN: 978-1-861-56019-3 October 1997 314 Pages
Description
This book is based on contributions around the idea of the sublime and its presence, avoidance or use in contemporary psychotherapeutic practice. It is a reply to the yearnings of the people of our time for an acknowledgement and an honouring of the transpersonal, the beautiful, the soul-full and the foundations of perennial wisdom.
Table of contents
On The Sublime (in Psychoanalysis, Analytical Psychology and archetypal Psychotherapy), Petruska Clarkson.
Placing The Sublime - Cosmology in The Consulting Room, Marie Angelo.
Sublime Moments in The Body of The Double pelican, Alan Bleakley.
Psychoanalytic Framing of The Sublime in The Creative art, Tessa Adams.
Everyday Epiphanies, Ginette Paris, Reflections on Chance, fate and Synchronicity, Gerhard Adler.
Regathering Psychoanalysis, Deliteralizing Hillman - Imaginal Therapy, Individual and Cultural, Michael Vannoy Adams.
The Phallus, Alchemy and Christ - Jungian Analysis and The sublime, Christopher Hauke.
Countertransference, The Imaginal World and The politics of The Sublime, Andrew Samuels.
Letter to my Daughter, Petruska Ckarkson.
Sublimely Sexual - Eros and The Sublimation of Desire, Thomas Moore.
Of Castles and Melts, Dickens and The Dark Sublime - The Uses of Creativity, Andrea Duncan.
Conditions for Excellence - The Coincidentia Oppositorum of The inferior Function (space for The Sublime in Jungian Typology, Petruska Clarkson.
Elemental Images of 'impossible Love' - The Brother-sister conjunction as Reflected in Art, Eva Loewe.
On The Sublime - Eva Loewe and The practice of Psychotherapy, or Aphrodite in The Consulting Room, Noel Cobb.
The archetypal Situatedness of Supervision (parallel Process in Place), Petruska Clarkson.