Smartphones as Locative Media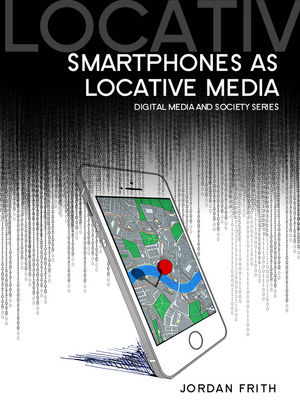 Smartphones as Locative Media
ISBN: 978-0-745-68504-5 March 2015 Polity 168 Pages
Download Product Flyer
Download Product Flyer
Download Product Flyer is to download PDF in new tab. This is a dummy description. Download Product Flyer is to download PDF in new tab. This is a dummy description. Download Product Flyer is to download PDF in new tab. This is a dummy description. Download Product Flyer is to download PDF in new tab. This is a dummy description.
Description
Smartphone adoption has surpassed 50% of the population in more than 15 countries, and there are now more than one million mobile applications people can download to their phones. Many of these applications take advantage of smartphones as locative media, which is what allows smartphones to be located in physical space. Applications that take advantage of people's location are called location-based services, and they are the focus of this book.
Smartphones as locative media raise important questions about how we understand the complicated relationship between the Internet and physical space. This book addresses these questions through an interdisciplinary theoretical framework and a detailed analysis of how various popular mobile applications including Google Maps, Facebook, Instagram, Yelp, and Foursquare use people's location to provide information about their surrounding space.
The topics explored in this book are essential reading for anyone interested in how smartphones and location-based services have begun to impact the ways we navigate and engage with the physical world.
Table of contents
Acknowledgments
Chapter 1: From atoms to bits and back again
Chapter 2: Mobilities and the spatial turn
Chapter 3: The infrastructure of locative media
Chapter 4: Wayfinding through mobile interfaces
Chapter 5: Location and social networks
Chapter 6: Writing and archiving space
Chapter 7: Market forces and the shaping of location-based services
Chapter 8: The negotiation of locational privacy
Conclusion: The future of locative media
Notes
References
Reviews
"A useful road map for readers seeking to obtain an in-depth understanding of the relevance and impacts of locative media on society. The book is well-structured, innovative in its thinking, and contains a number of original case studies and rich theoretical discussions that will be equally interesting for experienced academic audiences and the general public."
LSE Review of Books

"Concise and accessible, Frith's
Smartphones as Locative Media
could serve as an important stanchion for expanding this area of mobile studies, bringing people into important places, showing them around the highlights, and setting up engaging discussions."
Brett Oppegaard, University of Hawaii
"We are increasingly using location-enabled phones to find our way, locate services and find one another. All the while, their traces raise basic questions of privacy. Jordan Frith provides an excellent and finely-tuned analysis that helps us to understand the nuances of this fundamental social transition."
Richard Ling, Nanyang Technological University
"Smartphones as Locative Media is a fine book that offers an engagingly written, accessible, up-to-date, and thorough account of contemporary location-based services. Taking our embrace of the smartphone as a point of entry, Frith considers the rise and emerging capabilities of mobile location-based services, their still evolving social uses, and the political economic dimensions and privacy implications of these services. The book makes an important contribution to the literature on locative media, and forms a valuable resource for anyone studying or teaching on the development, growth, and wider impacts of location-enabled mobile technologies."
Rowan Wilken, Swinburne University of Technology, Australia