The Complete Guide to Creating Enduring Festivals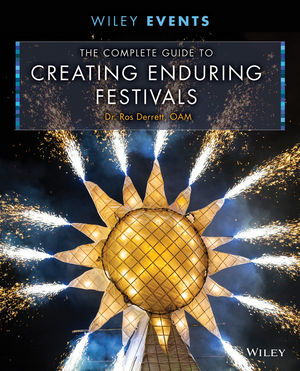 The Complete Guide to Creating Enduring Festivals
ISBN: 978-1-118-29931-9 April 2015 400 Pages
Description
Festivals provides a realistic framework to explore how arts-based and community-based cultural festivals around the world thrive. Festivals highlights the big picture, as well at the intricate details that comprise the delivery of a festival to plan and execute a successful festival. Festivals will benefit experienced festival planners as well as those who aspire to enter or develop their skills in the dynamic field of festival making. Its approach is systematic, using case studies of numerous internationally iconic festivals and interviews with experts in the field. The book provides, for the first time, concrete evidence of how with proper planning, design and leadership, communities may benefit from hosting local festivals.
Table of contents
Foreword: A Personal Perspective ix

Series Editor Foreword xi

Preface xiii

Acknowledgments xxi

Chapter 1 The Nature and Role of Festivals 1

The Nature and Role of Festivals 2

Historic Perspective on Communal Creativity and Celebration 7

The Roles for Festivals 13

Summary of Festival Essentials 14

Festival Ideas and Issues 21

Festival Focus Activities 22

Suggested Reading 23

Chapter 2 Secrets of Enduring Festival Success 24

Resilient and Successful Festivals 25

How Festival Organizations Function 28

Resilient Festival Practices 31

Festival Ideas and Issues 45

Festival Focus Activities 45

Suggested Reading 45

Chapter 3 Festivals Connect to Community and Place 47

Festivals Working with Communities 48

What Is Community? 49

Festival Focus: Community Consultation and Communication 54

Community Capital and Sense of Community 59

Festival Contribution to Well-Being 60

Building Community Culture 61

What Are the Social Implications of Festivals? 62

Festival Ideas and Issues 67

Festival Focus Activities 70

Suggested Reading 71

Chapter 4 Building and Nourishing the Festival Team 73

Festival Organization Frameworks 74

Origins of Popular Festivals 77

Festival Ideas and Issues 94

Festival Focus Activities 94

Suggested Reading 95

Chapter 5 Building Partnerships That Work 96

Establishing Festival Partnerships 97

Partnership Components 98

Festival Partnerships 103

Festival Ideas and Issues 116

Festival Focus Activities 117

Suggested Reading 118

Chapter 6 Alignment with the Target Audience 120

Audience Relationships 121

The Festival Experience 121

Festival Satisfaction 126

Major Factors Influencing Buying Behavior 130

Establishing the Best Fit 131

Marketing Mechanisms and Reach 134

Festival Ideas and Issues 142

Festival Focus Activities 142

Suggested Reading 143

Chapter 7 Festival Resourcefulness 145

Assessing Festival Resource Requirements 146

External Partners 150

Financing the Festival 153

Project Management 156

Risk Management 158

Operational Considerations 161

Environmental Festival Plan 163

Festival Ideas and Issues 169

Festival Focus Activities 169

Suggested Reading 171

Chapter 8 Ensuring Creativity at All Levels of Festival-Making 173

Start with the Heart 174

Explaining Creativity 175

The Business of Creativity 185

Festival Creativity Trajectory 186

Festival Ideas and issues 195

Festival Focus Activities 195

Suggested Reading 196

Chapter 9 Delivering Memorable Festival Experiences 198

Memorable Festival Experiences 199

Service Factors 202

Experience Factors 203

The WOW Factor 204

Stakeholder Factors 205

The Role of Ceremony and Ritual 209

Challenges 215

Festival Ideas and Issues 220

Festival Focus Activities 221

Suggested Reading 221

Chapter 10 Festival Media Platforms 223

Reaching Festival Audiences 224

Communication 225

Marketing Plan 228

Introduction to Social Media for Festival Engagement 233

Content Management Systems 237

Festival Issues and Ideas 246

Festival Focus Activities 247

Suggested Reading 248

Chapter 11 Maintaining a Global Competitive Edge 249

Setting Festival Strategy 250

Destination Competitiveness 251

Festivals as Destination Drivers 252

Ritual and Spectacle 260

Challenges for Globally Competitive Destinations Hosting Festivals 266

Festival Ideas and Issues 272

Festival Focus Activities 272

Suggested Reading 274

Chapter 12 Documenting, Monitoring, and Evaluating Festivals 275

Evaluating Festival Endurance 276

Evaluation Plans 282

Cultural Indicators 286

Economic Impacts 289

After the Evaluation, What Then? 293

Understanding a Festival Legacy 294

Festival Ideas and Issues 299

Festival Focus Activities 299

Suggested Reading 300

Chapter 13 Revisiting and Refreshing the Festival Vision 302

Designing Revitalized Festivals 303

Managing Change 304

Preparing for Refreshment 305

React to External Environments 307

Avoiding Festival Failure 317

Accentuate the Positive 320

Festival Ideas and Issues 326

Festival Focus Activities 327

Suggested Reading 328

Chapter 14 The Future of Festivals 329

Addressing the Future of Festivals 330

Global Scenarios 331

Too Many … Choices 338

The FIST Model 340

Postcard from the Edge of the Future 349

Festival Issues and Ideas 354

Festival Focus Activities 355

Suggested Reading 355

Abbreviations 357

Glossary 359

References 363
Features
A mosaic approach is taken in the organization of the material in this book. The reader will be able to access relevant knowledge gleaned from practitioners and will recognize good practice by exploring further the themes, ideas and issues identified in the text.
Real-life examples of planning and executing festivals from across the world
Interviews with industry professionals contained in each chapter
On-line resources available to complement the numerous exercises present at the end of each chapter.