Generation on a Tightrope: A Portrait of Today's College Student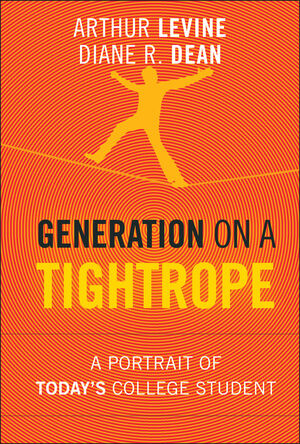 Generation on a Tightrope: A Portrait of Today's College Student
ISBN: 978-0-470-37629-4 August 2012 Jossey-Bass 256 Pages
Description
An understanding of today's undergraduate college students is vital to the effectiveness of our nation's colleges and universities. As Generation on a Tightrope clearly reveals, today's students need a very different education than the undergraduates who came before them: an education for the 21st Century, which colleges and universities are so far ill-equipped to offer and which will require major changes of them to provide. Examining college student expectations, aspirations, academics, attitudes, values, beliefs, social life, and politics, this book paints an accurate portrait of today's students. Timely and comprehensive, this volume offers educators, researchers, practitioners, policymakers, and employers guidance and a much-needed grasp of the forces shaping the experiences of current undergraduates. The book:

Is based on completely new research of 5,000 college students and student affairs practitioners from 270 diverse college campuses
Explores the similarities and differences between today's generation of students and previous generations
Preface ix
Acknowledgments xix
The Authors xxiii
Introduction 1
Chapter 1: The Past Is a Foreign Country 11
Chapter 2: Academics: The Internet and the Blackboard 37
Chapter 3: Life Outside the Classroom: The New Tribalism 53
Chapter 4: Parents: Helicopters, Lawnmowers, and Stealth Bombers 79
Chapter 5: Multiculturalism: The Demographics of Comfort 95
Chapter 6: Politics: Talking Global, Acting Local 117
Chapter 7: The Future: Clinging to the American Dream 147
Chapter 8: Conclusion: The Future Is a Foreign Country 155
Appendix A: The Life and Times of the Class of 2012: A Chronology 199
Appendix B: Studies Used in This Book 205
Appendix C: Campus Contacts 209
References 213
Index 219
We dedicate this book to our spouses, Linda Fentiman and John Giglio, both educators, and to our children, Jamie Levine, who is teaching today's college students; Rachel Levine, who graduated from college in 2010 and is one of the people we are writing about; and Andy and Katy Giglio, who are the college students of the future. We love you very much.