AdWords For Dummies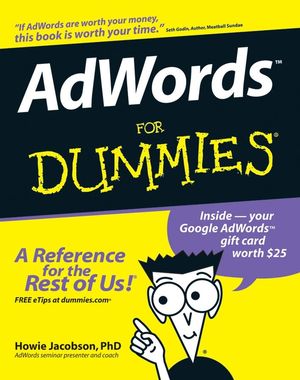 AdWords For Dummies
ISBN: 978-1-118-05172-6 May 2011 408 Pages
Description
AdWords lets every business-from eBay PowerSellers to Fortune 500 companies-create targeted, cost-efficient advertising campaigns on the Web, and accounts for the bulk of Google's $6 billion in annual revenues
This all-new guide helps advertisers get a handle on AdWords complexities and nuances, adopt AdWords best practices, and turn clicks into ka-ching!
Topics covered include conducting quick and cheap market research, crafting a message that cuts through the clutter, choosing AdWords settings, bidding on keywords, setting a maximum daily spend, improving the Web page that an ad points to, testing strategies, tracking results, and using Web analytics tools
Includes an exclusive offer from Google-AdWords credits equivalent to the price of the book-plus a companion Web site with up-to-the-minute AdWords tips and tricks, narrated video walkthroughs, and free trials of the author's software
Table of contents
Introduction.
Part I: Becoming a Google Advertiser.
Chapter 1: Profiting from the Pay-Per-Click Revolution.
Chapter 2: Setting Up Your Starter Edition Account.
Chapter 3: Setting Up Your Standard Edition Account.
Part II: Launching Your AdWords Campaign.
Chapter 4: Discovering Your Online Market.
Chapter 5: Choosing the Right Keywords.
Chapter 6: Writing Magnetic Ads.
Part III: Managing Your AdWords Campaigns.
Chapter 7: Deciding Where and When to Show Your Ads.
Chapter 8: Improving Your Campaigns through Keyword Management.
Chapter 9: Getting It Done with AdWords Tools.
Part IV: Converting Clicks to Clink.
Chapter 10: Giving Your Customer a Soft Landing on Your Web Site.
Chapter 11: Following Up with Your Prospects .
Chapter 12: Building a "Climb the Ladder" Web Site.
Part V: Testing Your Strategies and Tracking Your Results.
Chapter 13: How You Can't Help Becoming an Advertising Genius.
Chapter 14: Slashing Your Costs with Conversion Tracking.
Chapter 15: Making More Sales with Google Analytics.
Part VI: The Part of Tens.
Chapter 16: The Ten Most Serious AdWords Beginner's Mistakes.
Chapter 17: Ten AdWords Case Studies.
Index.
Downloads
Download Bonus Chapter 1
Click the links to view the bonus chapter PDF files. Bonus Chapter 1 provides you with a rundown of ten great tools you can use to make your experiences with AdWords easier.

Download Bonus Chapter 01: Ten-Plus Tools to Make Your AdWords Life Easier in PDF format.

Download
Download Bonus Chapter 2


Download Bonus Chapter 02: Ten Advanced Ad Writing Tips from the Pros in PDF format.

Bonus Chapter 2 gives you ten insider tips from professional ad writers to help you write compelling and profitable ads.
Download
Episode 1: Optimizing Google AdWords by Maximizing Your Quality Score
If you're not into the podcasting scene, you can listen to the latest podcast episode by clicking on the following episode links, or by right-clicking and using the "Save Target As" option to save the file to your hard drive.
Download
Notes
Subscribe to podcast
Copy and paste the link below into the software you use to subscribe to podcasts (such as iTunes or Yahoo! Music Engine).