Buying Property For Dummies, 2nd Australian Edition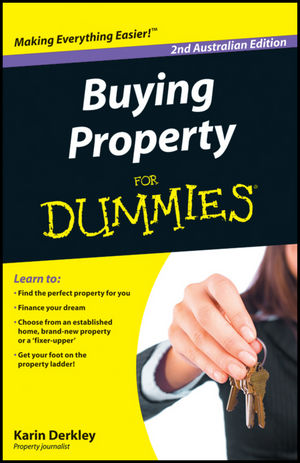 Buying Property For Dummies, 2nd Australian Edition
ISBN: 978-0-730-37558-6 January 2015 272 Pages
Description
Created especially for the Australian customer!
Learn to:
Find the perfect property for you

Finance your dream

Choose from an established home, brand-new property or a 'fixer-upper'

Get your foot on the property ladder!
Open the book and find:
Strategies for getting your deposit together

Pros and cons of buying a period home

What's involved with becoming an owner–builder

Pitfalls to consider when buying 'off the plan'

How to secure a home loan if you're self-employed

Tactics to beat the auctioneersat their own game
Unearth your dream home and negotiate the mortgage maze
Do you search property websites, wondering whether a particular property could be your dream home? Do you feel like you're wasting money on rent but are confused by the world of real estate — and real estate agents? Relax! This practical guide covers all aspects of buying property, from buying a piece of history to building from scratch to signing on the dotted line.
Work out whether you're ready to buy — find out whether you're ready for the commitment of buying property, financially and psychologically

Focus in on the right property for you — determine your 'must haves' and 'like to haves', and whether you'll need to make a trade-off between these and your preferred location

Decide what kind of property you want — discover if your best option is to buy off the plan, find an established property or build yourself

Deal with property professionals — cut through real estate agent spin and understand how buyers' agents work

Find the right finance — choose the home loan that suits you and your finances

Negotiate a great deal — move smoothly through the buying and settlement process, whether buying at auction or through private treaty sale
Table of contents
Introduction.
Part I: The Great Australian Dream.
Chapter 1: Assessing the Dream: Buying Property.
Chapter 2: Squeezing Your Foot onto the Property Ladder.
Chapter 3: The Position or the Property.
Chapter 4: Dealing with Property Professionals.
Part II: Finding Your Dream Home.
Chapter 5: The Search Is On.
Chapter 6: Buying a Piece of History.
Chapter 7: Renovator's Dream (or Nightmare).
Chapter 8: Nice and New.
Chapter 9: Building from Scratch.
Part III: Borrowing For, Buying and Protecting Your Home.
Chapter 10: Climbing Aboard the Mortgage Merry-Go-Round.
Chapter 11: Going, Going, Gone: Buying at Auction.
Chapter 12: Making an Offer: Buying Through a Private
Treaty Sale.
Chapter 13: Sold to the Highest Bidder! Now What?
Part IV: The Part of Tens.
Chapter 14: Ten Things to Remember as a First Home Buyer.
Chapter 15: Ten Areas (Almost!) to Check at Open Homes.
Index.