DNS For Dummies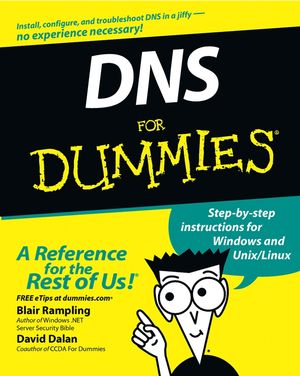 DNS For Dummies
ISBN: 978-0-764-51683-2 February 2003 360 Pages
Description
* Unique entry-level guide to Domain Name System (DNS), which translates Internet host names into IP addresses and is used with all Internet servers
* Shows how to install, configure, and troubleshoot DNS on both Windows and UNIX servers
* Helps people seeking technology certifications bone up on DNS theory, terminology, and architecture-a requirement in several popular exams
* Includes real-world examples based on the author's daily experience with both large and small networks
Table of contents
Introduction.
Part I: How DNS Makes the Internet Go 'Round.
Chapter 1: The Basics of DNS.
Chapter 2: DNS Namespaces.
Chapter 3: The DNS Request Process.
Chapter 4: Facilitating Other Applications with DNS.
Part II: Working with DNS Clients.
Chapter 5: Configuring a DNS Client.
Chapter 6: Using the DNS Clients on Your System.
Part III: Working with DNS Servers.
Chapter 7: Installing a Microsoft DNS Server.
Chapter 8: Unix Domain Name Servers.
Part IV: The Details: Setting Up Your DNS Zones.
Chapter 9: The Basics: Zones and Records.
Chapter 10: Using Subdomains.
Part V: Security and Advanced DNS Tricks.
Chapter 11: An Antidote for a Poisoned Cache: DNS Security.
Chapter 12: What Else Can DNS Do?
Chapter 13: "It Doesn't Work!" (Troubleshooting).
Part VI: The Part of Tens.
Chapter 14: Ten DNS Services and Resources.
Chapter 15: Ten Things Even Experienced People Do to Make DNS Break.
Chapter 16: The Top Ten Tips for Maintaining a Manageable DNS Server.
Chapter 17: The Top Ten DNS Server Design Considerations.
Appendix A: Using the DNSCMD Utility.
Appendix B: Using Webmin for BIND Administration.
Appendix C: Other DNS Server Applications.
Index.