Quaternary Carbonate and Evaporite Sedimentary Facies and Their Ancient Analogues: A Tribute to Douglas James Shearman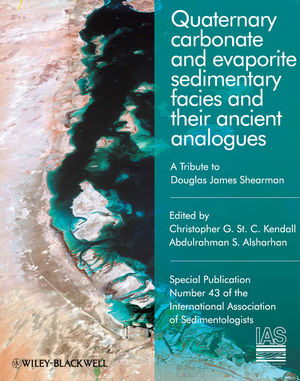 Quaternary Carbonate and Evaporite Sedimentary Facies and Their Ancient Analogues: A Tribute to Douglas James Shearman
ISBN: 978-1-444-39231-9 February 2011 Wiley-Blackwell 496 Pages
Description
This book is part of the International Association of Sedimentologists (IAS) Special Publications.
The Special Publications from the IAS are a set of thematic volumes edited by specialists on subjects of central interest to sedimentologists. Papers are reviewed and printed to the same high standards as those published in the journal Sedimentology and several of these volumes have become standard works of reference.
This volume commemorates the eclectic research of Douglas James Shearman into evaporites, which was initiated by his studies of the prograding UAE coastal sabkhas or salt flats that incorporate evaporite minerals which displace and replace earlier carbonate sediments. His subsequent proselytization of the study of ancient evaporites in sedimentary sections all over the world led to fundamental advances in our understanding of arid zone carbonate sedimentology.
The papers presented here are based on presentations made in Abu Dhabi, UAE 12-14th October 2004 and 7th –8th November 2006. They provide a retrospective from the 1960's and 70's of Holocene evaporites and carbonates, recapturing Shearman's contribution by revisiting the Holocene coastal evaporite and carbonate sediments of the Arabian/Persian Gulf from Abu Dhabi, Qatar, and Oman.
The first set of papers considers these sediments from the perspective of their coastal geomorphology, sedimentary character and their geochemistry. Later papers examine the significance of these settings in the ancient geological section world-wide, including examples from the Mesozoic-Cenozoic of the Moroccan Atlantic margin and the Upper Jurassic Arab Formation of the Arabian Gulf.
Table of contents
Dedication Douglas James Shearman (1918–2003): Father of the sabkha model
(Evans, G.).
Introduction to Quaternary carbonate and evaporite sedimentary facies and their ancient analogues (Alsharhan, A.S. and Kendall, C.G.St.C.).
Part 1 Recent carbonate and evaporate sediments.
An historical review of the Quaternary sedimentology of the Gulf (Arabian/Persian Gulf) and its geological impact (Evans, G.).
Holocene geomorphology and recent carbonate-evaporite sedimentation of the coastal region of Abu Dhabi, United Arab Emirates (Kendall, C.G.St.C. and Alsharhan, A.S.).
The impact of sea-level change on ramp margin deposition: lessons from the Holocene sabkhas of Abu Dhabi, United Arab Emirates (Park, R.K.).
Holocene evolution of Arabian coastal sabkhas: a re-evaluation based on stable-isotope analysis, forty years after Shearman's first view of the sabkha (Gunatilaka, A.).
Interplay between Holocene sedimentation and diagenesis, and implications for hydrocarbon exploitation: return to the sabkha of Ras Umm Said, Qatar (Shinn, E.A.).
Facies stacking patterns in a modern arid environment: a case study of the Abu Dhabi sabkha in the vicinity of Al Qanatir Island, United Arab Emirates (Strohmenger, C.J., Shebl, H., Al-Mansoori, A., Al-Mehsin, K.,Al-Jeelani, O., Al-Hosani, I., Al-Shamry,A. and Al-Baker, S.).
Coastal and continental sabkhas of Barr Al Hikman, Sultanate of Oman (Mettraux, M., Homewood, P.W., Kwarteng, A.Y. and Mattner, J.).
Coastal Holocene carbonates of Abu Dhabi, UAE: depositional setting, sediment distribution, and role of cyanobacteria in micritization (Kendall, C.G.St.C. and Alsharhan, A.S.).
Engineering properties of the carbonate sediments along the Abu Dhabi coast, United Arab Emirates (Epps, R.J.).
Part 2 Geochemistry of recent carbonate and evaporite sediments.
An historical odyssey: the origin of solutes in the coastal sabkha of Abu Dhabi, United Arab Emirates (Wood, W.W.).
Geochemistry and nature of organic matterof the Pleistocene–Holocene carbonate evaporate sediments of Al-Khiran, southeastern Kuwait (Qabazard, S., Abdullah, F.H. and Al-Temeemi, A.).
Halite, sulphates, sabkhat and salinas of the coastal regions and Sabkha Matti of Abu Dhabi, United Arab Emirates (Kirkham, A.).
Distribution of organic matter in the transgressive and regressive Holocene sabkha sediments of Abu Dhabi, United Arab Emirates (Kenig, F.).
The role of bacterial sulphate reduction in carbonate replacement of vanished evaporites: examples from the Holocene, Jurassic and Neoarchaean (Wright, D. and Kirkham, A.).
Part 3 Ancient carbonates and evaporites.
Evaporitic source rocks: mesohaline responses to cycles of ''famine or feast'' in layered brines (Warren, J.K.).
Coupled passive extension and compression on salt-based passive margins analyzed by physical models (Costa, E., Cavozzi, C. and Doglioni, N.).
Salt tectonics and structural styles of the western High Atlas and the intersecting Essaouira-Cap Tafelney segments of the Moroccan Atlantic margin (Hafid, M., Bally, A.W., Ait Salem, A and Toto, E.).
Carbonates and evaporites of the Upper Jurassic Arab Formation, Abu Dhabi: a petroleum exploration challenge (Al Suwaidi, A.S., El Hami, M., Hagiwara, H., Aziz, S.K. and Al Habshi, A.R.).
Selenite facies in marine evaporites: a review (Orti, F.).
Index.
Reviews
"Overall, this is a very nicely presented volume with some wonderful colour images and very useful process-orientated diagrams. For anyone interested in understanding more about the nature, character and controls on the geomorphology and sedimentology of modern carbonate-evaporite environments this volume is highly recommended. Overall, this is a very nicely presented volume with some wonderful colour images and very useful process-orientated diagrams. For anyone interested in understanding more about the nature, character and controls on the geomorphology and sedimentology of modern carbonate-evaporite environments this volume is highly recommended." (Holocene book reviews, 18 January 2012)