Twitter, 2nd Edition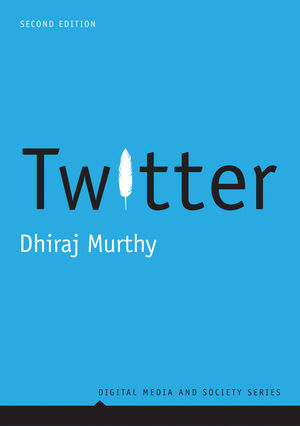 Twitter, 2nd Edition
ISBN: 978-1-509-51253-9 March 2018 Polity 240 Pages
Description

Twitter is a household name, discussed for its role in prominent national elections, natural disasters, and political movements, as well as for what some malign as narcissistic 'chatter'. The first edition of Dhiraj Murthy's balanced and incisive book pioneered the study of this medium as a serious platform worthy of scholarly attention. Much has changed since Twitter's infancy, although it is more relevant than ever to our social, political, and economic lives.

In this timely second edition, Murthy provides a unique perspective on how Twitter has evolved in recent years, and how it is used today. The book introduces readers to some of the historical context that gave birth to the social media platform, while providing fully up-to-date examples of the role of Twitter in elections, social movements, celebrity culture, and journalism and media industries. Discussions include the #blacklivesmatter movement, as well as Donald Trump's use of Twitter in the 2016 US presidential election. The chapters on journalism and social movements have been thoroughly updated, and completely new to this edition is a chapter on celebrities, brands, and live watching.

Seeking to answer challenging questions around the popular medium, the second edition of Twitter is essential reading for students and scholars of digital media.


New To This Edition
Fully up-to-date examples which include the #blacklivesmatter movement, and Donald Trump's use of Twitter in the 2016 presidential election
Thoroughly updated chapters on journalism and social movements
A completely new chapter on celebrities, brands, and live watching
Reviews
"Dhiraj Murthy is one of the foremost experts in social media and Twitter as a platform. His new edition of Twitter treats the platform as a firm, as a mode communication, and as a culture of technology use. Important political leaders use it, young people use it, and journalists use it, sometimes to the detriment of public life. Murthy takes us through the contagions and consequences of Twitter use."
Philip N. Howard, Oxford University and author of Castells and the Media

"Ten years after being introduced, Twitter has become an integral professional and civic tool. Now Dhiraj Murthy brings an updated version of his methodologically innovative and sociologically deep approach to this transformative social media platform."
Stephen D. Reese, University of Texas at Austin