You Can't Take It With You: Wills and Estate Planning for Australians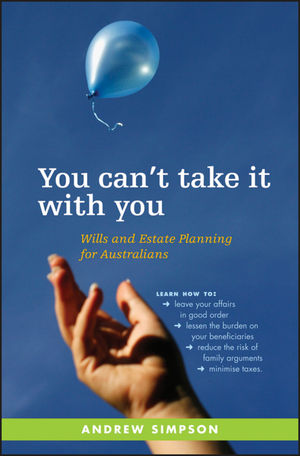 You Can't Take It With You: Wills and Estate Planning for Australians
ISBN: 978-0-730-37796-2 January 2015 Wrightbooks 320 Pages
Description
We all face an inescapable truth: whether we like it or not, we will one day die -- and we can't take anything with us when we do. Many Australians spend a great deal of their lives actively creating wealth, but pay little attention to how to distribute that wealth after death. Andrew Simpson's
You Can't Take it With You
is a practical and informative guide to estate planning. Inside you will discover how to:
understand and distribute your assets
plan your will and protect it from challenges
use trusts to safeguard your assets
minimise the tax liabilities on your future beneficiaries
plan your personal and financial affairs for retirement.
With helpful case studies that highlight key points in each chapter, You Can't Take it With You makes the estate-planning process easy. This book is your first step to ensuring peace of mind for you and those you leave behind.
Table of contents
About the author.
Acknowledgements.
Preface.
Part I: Understanding estate planning.
1 What is estate planning?
2 Estate assets.
3 Intestacy.
Part II: The Will.
4 Planning your will.
5 Appointment of executors.
6 Contents of the will.
7 Updating, revoking and storing your will.
8 Protecting your will from challenge.
Part III: Trust and Estate Planning.
9 An introduction to trusts.
10 Types of trusts.
11 Testamentary trusts.
12 Capital protected and protective trusts.
13 Proceeds trusts.
Part IV: Taxation and Superannuation.
14 Taxation and death.
15 Death and superannuation.
Part V: Lifetime Planning.
16 Powers of attorney.
17 Cohabitation and financial agreements.
18 Business succession and estate planning.
19 Life insurance.
20 Planning ahead - arranging your funeral.
Part VI: Estate Planning and Elder Law.
21 Centrelink and estate planning.
22 Centrelink and the treatment of private trusts and companies.
23 Reverse mortgages.
24 Aged care.
25 It's up to you now.
Glossary.
Appendix A: State-by-state intestacy provisions.
Appendix B: Step-by-step estate planning guide.
Index.