Helene Cixous: Authorship, Autobiography and Love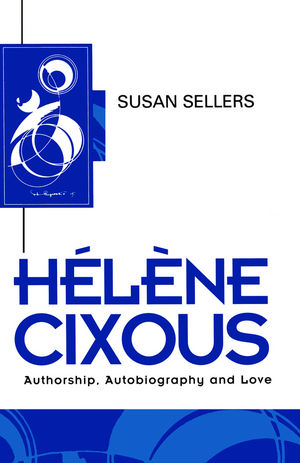 Helene Cixous: Authorship, Autobiography and Love
ISBN: 978-0-745-66850-5 June 2013 Polity 216 Pages
Download Product Flyer
Download Product Flyer
Download Product Flyer is to download PDF in new tab. This is a dummy description. Download Product Flyer is to download PDF in new tab. This is a dummy description. Download Product Flyer is to download PDF in new tab. This is a dummy description. Download Product Flyer is to download PDF in new tab. This is a dummy description.
Description
This book is a clear and accessible introduction to the writings of Helene Cixous, novelist, dramatist and critic, whose work has had a major impact on feminist theory and practice.
Susan Sellers, a major scholar on Cixous, provides a lucid account of Cixous's theoretical position, and in particular her distinctive theory of an 'écriture féminine'. She discusses the development of Cixous's literary oeuvre in the context of this theory, and analyses a selection of the works in detail to illustrate the different stages in Cixous's writing career.

Focusing on the key novels and plays, Sellers explores a range of issues and themes central to her work; the correlation between the death of Cixous's own father and her 'coming-into-being' as a writer; the psychological process of separation and individuation and the creation of a female authorial self; the discovery of the other and the dramatization of love; the delineation/depiction of an alternative form of relationship between self and other which would have a significance in a wider sphere than that of the merely personal.

This much-needed book will be welcomed by students in literature and literary theory, feminism and women's studies, English and French studies and philosophy.
Table of contents
Preface.
Introduction.
1. The Early Texts.
2. Creating a Feminine Subject.
3. Writing with the Voice of the Other.
4. Cixous and the Theatre.
5. Recent Writings.
Conclusion.
Notes.
Bibliography.
Index.
Reviews
"The exceptional clarity of Sellers expositions are backed up by an unerring choice of the clearest and most approachable quotations from Cixous's work. Her ability to do this stems from her unrivalled knowledge of Cixous's work. She has done an excellent job of making a notoriously difficult writer accessible to undergraduates."
Dr Elizabeth Fallaize, St. John's College, Oxford
"A clear and scholarly introduction to the fiction and drama of France's foremost "poet-thinker" (to borrow Derrida's phrase). Using a novel approach for Polity's excellent Key Contemporary Thinkers series, Sellers concentrates primarily on Cixous's work in practice, and not in theory ... thus she offers an exposition of Cixous's (elusive) statements on écriture féminine, which should itself prove useful to the uninitiated reader. Sellers remains appropriately dispassionate, yet she is an enthusiastic reader ... Sellers allows another Cixous, Cixous the author, to be reborn in her reading." Times Literary Supplement

"Hélène Cixous: Authorship, Autobigraphy and Love provides an ideal way in to the fiction of Hélène Cixous. Sellers's account of Cixous's complexities is refreshingly clear and accessible, while her insights are convincingly articulated." Professor Whitford, Queen Mary and Westfield College, University of London

"Sellers brings to Cixous, a notoriously difficult writer, an admirable lucidity of her own. She presents Cixous in a clear, comprehensible fashion and her choice of quotation is excellent, such that the book provides a wonderful taster for Cixous's work in general. Further, Sellers adopts a chronological approach that lays out Cixous's development without any distractions and provides very honestly her own reactions to Cixous's work, in a manner that intriguingly undercuts Cixous's own claims." Nate News

"This book offers an accessible, jargon-free introduction to Helene Cixous that is clearly aimed at a student market." MLR

"This book is essential reading as an introduction not only to Cixous' writing in all its facets - critical theory, plays, fiction - but to the whole area of writing in the feminine. With welcome clarity, but faithfulness to complexity, Sellers makes accessible "écriture femine" and the gamut of dramatisations which occur across Cixous' oeuvre. Undergraduates and graduates alike will find this a springboard to an understanding of French feminism and a fine example of how to write well." Forum for Modern Language Studies

"Sellers' book operates best as a general introduction, differing from existing introductory studies, by not only following a particular trajectory in Cixous's work, but also including sustained analyses of her fiction and her writing for the theatre...The format Sellers chooses...brings welcome clarity to the complexity of Cixous's prolific oeuvre...Sellers has a thorough knowledge of Cixous's work and her readings do full justice to its richly connotative poetical language, to its themes which impact on personal, political and ethical issues, and to the open-ended nature of the texts wherein, to my mind, lies Cixous's real generosity as a writer."

"Feminist theory and practice will always be indebted to this book... Her evocative prose, her uncompromising political stand and her regard for the politics of difference..." Shelly Walia, Spectrum<!--end-->
Features
* This book offers a comprehensive introduction to the work of Helene Cixous, which will be accessible to students as well as researchers.
* It provides a detailed exposition of Cixous's theoretical position, paying particular attention to her fiction and drama. This focus is what makes the book distinctive.
* It will be welcomed by a broad audience working in literature/literary theory, philosophy, French studies, and women's studies and feminism.