The ELT Curriculum: Design, Innovation and Mangement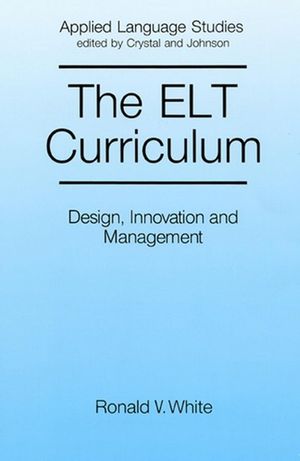 The ELT Curriculum: Design, Innovation and Mangement
ISBN: 978-0-631-15152-4 June 1998 Wiley-Blackwell 204 Pages
Description
ELT teachers today are faced with a bewildering choice of aims, methods and materials. How can they design or choose language curricula best suited to their learners' needs? What options are open to them in designing and introducing new Syllabuses and methods? In answering these questions, the author begins by reviewing historically the development of ideas on language teaching and language curriculum. He describes various types of syllabus, both past and current, and he highlights the assumptions, principles and aims underlying them. Proposing curriculum renewal is one matter; introducing it into an existing system is quite another. The effective management and implementation of curriculum change forms the basis of the successful introduction of new syllabuses, materials and methods, issues about which the author offers theoretical guidance and practical advice based on evidence derived form the study of innovation in education.
Table of contents
Note to the Reader.
Acknowledgements.
1. Approach, Design, Procedure.
2. Two Traditions.
3. Language Curriculum: Values and Options.
4. Language Syllabus Design: Two Types.
5. Where, What and How: Other Bases to Syllabus Design.
6. Type A syllabuses: Notional-Functional.
7. The Type B Tradition.
8. Language Curriculum Design: Process and Management.
9. Innovation: Managing and Evaluating.
Appendix: Follow-up Activities.
Bibliography.
Index.
Reviews
"Ron White approaches ELT curriculum issues by making the case that however desirable curriculum renewal/change within the financial and administrative constraints of existing educational systems might be, the reality is frequently problematic. This book seems particularly aimed at educational administrators and teachers who want to expand their rudimentary knowledge of the subject, and ample background is provided via the author's thorough historical overview of the development of ideas on language teaching."
Leslie F. Sheldon, Times Higher Educational Supplement
"It makes fascinating reading . . . I couldn't put it down . . . The synthesis of the field is excellent and the treatment is very clear so that it really is the kind of book that our students need to have. It is going to be one of those fundamental texts which we will all be referring to in the future." Ken Cripwell, ESOL