Zygmunt Bauman: Prophet of Postmodernity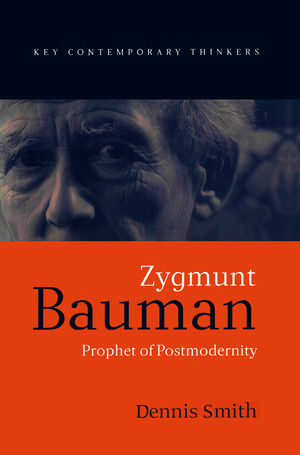 Zygmunt Bauman: Prophet of Postmodernity
ISBN: 978-0-745-66884-0 May 2013 Polity 262 Pages
Download Product Flyer
Download Product Flyer
Download Product Flyer is to download PDF in new tab. This is a dummy description. Download Product Flyer is to download PDF in new tab. This is a dummy description. Download Product Flyer is to download PDF in new tab. This is a dummy description. Download Product Flyer is to download PDF in new tab. This is a dummy description.
Description
In this major new assessment of Zygmunt Bauman's work, Smith gives a clear introduction to this controversial and challenging sociologist.
Table of contents
Preface x
Part I Setting the Agenda
1 Living Without a Guidebook 3
Introduction 3
Critical perspectives 3
Sociology plus 5
What is modernity? 6
What is postmodernity? 9
Why Bauman is worth reading 14
The myth of the cage-dwellers 16
The rest of this book 18
2 No Easy Choices 20
Culture, choice and sociology 20
Bauman's vision 23
Bauman's career and intellectual influences: a brief overview 27
3 Who is Zygmunt Bauman? 33
Faith, hope and charity 33
The roots of wisdom 34
Bauman's agenda 35
A brief biography 38
Transitions 41
Puzzles 43
Anti-Semitism and Bauman 43
Neither insider nor outsider 44
Marx and the art of motorcycle maintenance 45
4 The Power of the Past 48
Discovering postmodernity 48
From priest to prophet 50
Out of Poland 52
A sociology for strangers 56
Part II The Road to Postmodernity
5 The Road to the West 61
Keeping on the road 61
An unexpected discovery 62
Intellectuals and innovation 64
Bauman, Galbraith and Mill 66
Modern times, modern Marxism 67
Between Class and Elite 69
Polish peasants and politics 71
Conclusion 75
6 The Road to Utopia 77
Mechanisms of social change 77
Culture as Praxis 77
Towards a Critical Sociology 80
Socialism: the active utopia 85
Hermeneutics and Social Science 89
Conclusion 94
7 The Road to the Berlin Wall 98
Switching routes 98
Solidarity 99
Memories of Class 101
Freedom 105
After communism 109
Conclusion 110
8 The Trilogy 113
Three narratives 113
Legislators and Interpreters 114
Cruelty, dehumanization and estrangement 120
Modernity and the Holocaust 122
Modernity and Ambivalence 130
Conclusion 134
9 Bauman's Vision of Modernity and Postmodernity 136
Elaborating the vision 136
Tending the garden 136
Discipline and sacrifice 138
The costs of modernity 142
Contradictions of modernity 143
The postmodern perspective 147
The postmodern habitat 150
The broader context 152
Three aspects of postmodernity 153
Postmodernization 155
Globalization 156
Seduction and repression 156
Cognitive, aesthetic and moral space 158
The stranger 161
I and the Other 163
The role of the sociologist 165
Part III Dialogue
10 Between Critical Theory and Poststructuralism 169
The ambivalence of criticism 169
The journey from modernity to postmodernity 170
Adorno and Habermas 171
Foucault and Lyotard 178
Enlightenment values 184
11 A Correspondence between Zygmunt Bauman and Dennis Smith 188
First letter 188
Second letter 191
Third letter 198
Fourth letter 203
Fifth letter 213
Notes 221
Bibliography 231
Index 239
Reviews
"A very accessible introduction."
—Choice
"This book is both an introduction to the main themes of Bauman's work and an intellectual biography. Smith is clear, unpretentious, and unfailingly accurate, with a remarkably sound eye for what is significant and what is not, and for what will maintain the book's narrative drive. As a guide for the perplexed or just plain curious it could hardly be bettered."
—British Journal of Sociology
"Dennis Smith's book is part of Polity's series of Key Contemporary Thinkers, and on this evidence it is shaping up to be a worthwhile set of texts. He has not written a 'Beginner's Guide to Bauman', but rather an in-depth piece of work which includes some lengthy correspondence with Bauman."
—Contemporary Politics
Features
* The first book-length introduction to the work of Zygmunt Bauman - one of the most influential authors in the postmodernity debate.
* Offers a comprehensive overview and assessment of Bauman's work linking his current thinking with his early writings.
* Includes a series of letters in which the author and his subject exchange views on a number of topics key to Bauman's work.