Applied Psychology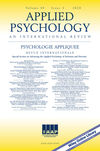 Applied Psychology
Vol 67(4 Issues in 2018 ) Print ISSN: 0269994X Online ISSN: 1464-0597 Impact Factor: 2.490
Description
Applied Psychology: An International Review is the official journal of the International Association of Applied Psychology (IAAP), the oldest worldwide association of scholars and practitioners of the discipline of psychology (founded in 1920).
Applied Psychology: An International Review is a peer-reviewed, truly international outlet for the scholarly dissemination of findings in applied psychology. Articles are encouraged from all areas of applied psychology including, but not limited to, organizational, cross-cultural, educational, health, counseling, and environmental, traffic and sport psychology. Particularly invited are articles that advance understanding of psychological processes across a range of applied phenomena and studies that examine the effects of different national and cultural contexts.
For example, topics appropriate for Applied Psychology include organizational behavior, leadership, cross-cultural psychology, work motivation, psychological assessment and evaluation, performance measurement, training, job attitudes, career development, negotiation and conflict resolution, work stress, organizational design and intervention, consumer behavior, national development, group, environmental, educational, economic, political, developmental, health, sport, and traffic psychology.
Four types of freely submitted articles appear in Applied Psychology: Original Articles describe important research or theoretical developments for specific issues; Lead Articles review and extend a body of research at a critical juncture and are supplemented with peer commentaries to create an international scientific discussion; Review Articles synthesize knowledge on a particular theory, methodology or phenomenon; and International Replication Notes provide replications of known phenomena in new cultural contexts. Special Issues are also published, with guest editors and invited contributions with a particular thematic focus.
To subscribe to Applied Psychology: An International Review please click here. (Personal and Institutional subscriptions available). The Journal is available for free to members of the International Association of Applied Psychology. For details of how to join the Association, please click here.

IAAP Membership. For details of IAAP benefits and information on how to join IAAP online, please click here. Four year standard and subsidized IAAP membership rates available! Please click here for further information.

Journal Ranking: Applied Psychology has an impact factor of 1.865 (2-year) and 2.415 (5-year, 2016 Journal Citation Reports (r). Thomson Reuters, 2016). It is ranked '3' on the UK Chartered Association of Business Schools Academic Journal Guide 2015 (ABS List), 'A' on the Australian Business Dean's Council Journal Quality List 2016 (ABDC list) and 'B' on the German VHB-JOUQUAL 3. All papers published in Applied Psychology are eligible for Panel A: Psychology, Psychiatry and Neuroscience in the Research Excellence Framework (REF).