Arabic Phrases For Dummies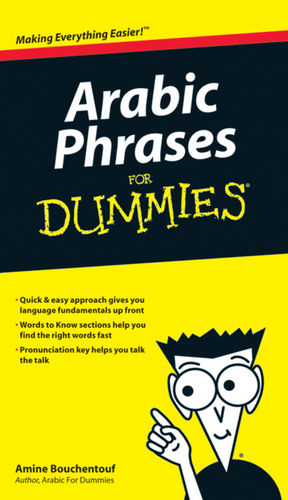 Arabic Phrases For Dummies
ISBN: 978-0-470-37842-7 February 2009 224 Pages
Description
A concise, portable guide for communicating in Arabic

Today, Arabic is spoken in more than 20 countries, and more than one billion people study Arabic for religious reasons. This practical guide offers help on basic Arabic words and phrases and eases communication with Arabic speakers. Written as a companion to Arabic For Dummies, this book provides readers with the tools to converse with others in Modern Standard Arabic on a basic level. It uses real-world phrases extensively to illustrate grammatical concepts and provide opportunities to practice newfound skills.

Amine Bouchentouf (New York, NY) is a native Arabic speaker from Morocco and the author of Arabic For Dummies (978-0-471-77270-5).
Table of contents
Introduction.
Chapter 1: I Say It How? Speaking Arabic.
Chapter 2: Grammar on a Diet: Just the Basics.
Chapter 3: Numerical Gumbo: Counting of All Kinds.
Chapter 4: Making New Friends and Enjoying Small Talk.
Chapter 5: Enjoying a Drink or a Snack (or a Meal!).
Chapter 6: Shop 'til You Drop!
Chapter 7: Making Leisure a Top Priority.
Chapter 8: When You Gotta Work.
Chapter 9: I Get Around: Transportation.
Chapter 10: Laying Down Your Weary Head: Hotel or Home.
Chapter 11: Dealing with Emergencies.
Chapter 12: Ten Favorite Arabic Expressions.
Chapter 13: Ten Great Arabic Proverbs.
Index.