Complexity Theory and the Philosophy of Education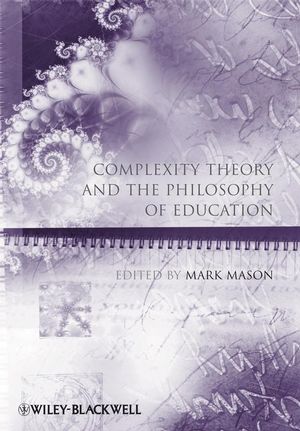 Complexity Theory and the Philosophy of Education
ISBN: 978-1-405-18042-9 October 2008 Wiley-Blackwell 254 Pages
Description
A collection of scholarly essays,
Complexity Theory and the Philosophy of Education
provides an accessible theoretical introduction to the topic of complexity theory while considering its broader implications for educational change.
Explains the contributions of complexity theory to philosophy of education, curriculum, and educational research
Brings together new research by an international team of contributors
Debates issues ranging from the culture of curriculum, to the implications of work of key philosophers such as Foucault and John Dewey for educational change
Demonstrates how social scientists and social and education policy makers are drawing on complexity theory to answer questions such as: why is it that education decision-makers are so resistant to change; how does change in education happen; and what does it take to make these changes sustainable?
Considers changes in use of complexity theory; developed principally in the fields of physics, biology, chemistry, and economics, and now being applied more broadly to the social sciences and to the study of education
Table of contents
Foreword: Complexity and knowledge systems (Michael A. Peters).
1. Complexity Theory and the Philosophy of Education (Mark Mason).
2. Educational Philosophy and the Challenge of Complexity Theory (Keith Morrison).
3. What Is Complexity Theory and What Are Its Implications for Educational Change? (Mark Mason).
4. Complexity and Education: Vital simultaneities (Brent Davis).
5. Three Generations of Complexity Theories: Nuances and ambiguities (Michel Alhadeff-Jones).
6. Re-reading Dewey through the Lens of Complexity Science, or: On the Creative Logic of Education (Inna Semetsky).
7. Foucault as Complexity Theorist: Overcoming the problems of classical philosophical analysis (Mark Olssen).
8. Complex Systems and Educational Change: Towards a new research agenda (Jay L. Lemke and Nora H. Sabelli).
9. Human Research and Complexity Theory (James Horn).
10. Complexity and Truth in Educational Research (Mike Radford).
11. 'Knowledge Must Be Contextual': Some possible implications of complexity and dynamic systems theories for educational research (Tamsin Haggis).
12. Complexity and Educational Research: A critical reflection (Lesley Kuhn).
13. Complexity and the Culture of Curriculum (William E. Doll).
14. From Representation to Emergence: Complexity's challenge to the epistemology of schooling (Deborah Osberg, Gert Biesta and Paul Cilliers).
15. Educating Consciousness through Literary Experiences (Dennis Sumara, Rebecca Luce-Kapler and Tammy Iftody).
Notes on Contributors.
Index.
Features


Explores the relevance of complexity theory – the web of interrelated and contingent factors that
contribute to particular outcomes or phenomena – to the philosophy and theory of education, to the
curriculum, and to educational research more broadly

Brings together new research by an international contributor team to debate issues ranging from the
culture of curriculum, to the implications of work of key philosophers such as Foucault and John Dewey
for educational change

Demonstrates how social scientists and social and education policy makers are drawing on complexity
theory to answer questions on why education decision-makers are so resistant to change; how change in
education happens; and what it takes to make these changes sustainable