EcoRedux: Design Remedies for an Ailing Planet (Architectural Design)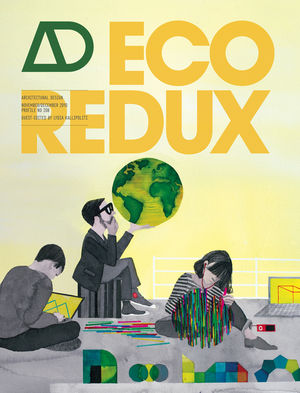 EcoRedux: Design Remedies for an Ailing Planet (Architectural Design)
ISBN: 978-0-470-74662-2
Nov 2010
136 pages
Description
This issue of AD explores the remarkable resurgence of ecological strategies in architectural imagination. As a symptom of a new sociopolitical reality inundated with environmental catastrophes, sudden climatic changes, garbage-packed metropolises and para-economies of non-recyclable e-waste, environmental consciousness and the image of the earth re-emerges, after the 1960s, as an inevitable cultural armature for architects; now faced with the urgency to heal an ill-managed planet that is headed towards evolutionary bankruptcy. At present though, in a world that has suffered severe loss of resources, the new wave of ecological architecture is not solely directed to the ethics of the world's salvation, yet rather upraises as a psycho-spatial or mental position, fuelling a reality of change, motion and action. Coined as 'EcoRedux', this position differs from utopia in that it does not explicitly seek to be right; it recognises pollution and waste as generative potentials for design. In this sense, projects that may appear at first sight as science-fictional are not part of a foreign sphere, unassociated with the real, but an extrusion of our own realms and operations.


Contributors include: Matthias Hollwich and Marc Kushner (HWKN), Fabiola López-Durán and Nikki Moore, Anthony Vidler and Mark Wigley.
Featured architects: Anna Pla Catalá, Jonathan Enns, Eva Franch-Gilabert. Mitchell Joachim (Terreform One), François Roche (R&Sie(n)), Rafi Segal, Alexandros Tsamis and Eric Vergne.
Editorial (
Helen Castle
).
About the Guest-Editor (Lydia Kallipoliti).
Spotlight: Visual highlights of the issue.
Introduction: No More Schisms (Lydia Kallipoliti).
Whatever Happened to Ecology? (John McHale and the Bucky Fuller Revival Anthony Vidler).
The Soft Cosmos of AD's 'Cosmorama' in the 1960s and 1970s (Lydia Kallipoliti).
Guest-editor Lydia Kallipoliti revives the seminal AD Cosmorama section with a 'soft cosmos': a genealogy of ecological material experimentation from the 1960s and 1970s.
(Ut)opiates: Rethinking Nature (Fabiola López-Durán and Nikki Moore).
The Architecture of the Mouse (Mark Wigley).
MEtreePOLIS 1901-2111 (Matthias Hollwich and Marc Kushner).
(Science) Fiction, Ecosophical Apparatus and Skizoid Machines: Animism, Vitalism and Machinism as a Way to Rearticulate the Need to Confront the Unknown in a Contradictory Manner (François Roche).
Ecologies of Excess: An Excerpt from a 22nd-Century Architecture History Class (Eva Franch i Gilabert).
Projecting herself into the 22nd century, Eva Franch i Gilabert asks what would happen if culture was predicated on ecologies of excess.
Go Brown: Inner-Disciplinary Conjectures (Alexandros Tsamis).
Numerical Ecosystems (Anna Pla Catalá).
Dystopian Farming (Eric Vergne).
Dross City (Lydia Kallipoliti).
A Well-Cultivated House (Rafi Segal).
Intelligent Wood Assemblies: Incorporating Found Geometry and Natural Material Complexity (Jonathan Enns).
Rapid Re(f)use: 3-D Fabricated Positive Waste Ecologies (Mitchell Joachim).
Counterpoint: Comings and Goings (Brian Carter).