General Physics, 2nd Edition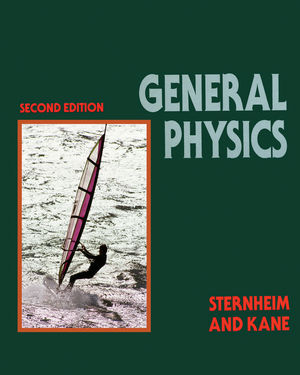 General Physics, 2nd Edition
ISBN: 978-0-471-52278-2 January 1991 912 Pages
Description
Introduces physics to science students with a wide range of interests. Unlike many other physics texts, the coverage and emphasis here is influenced by the specific needs of science majors, including those in the life sciences, and thus treats topics such as geometric optics, mechanics of fluids and acoustics. The derivative is introduced in Chapter One and integrals are used sparingly until electricity and magnetism are covered. Entire chapters are devoted to applications of physics covering subjects such as nerve conduction, ionizing radiation and nuclear magnetic resonance, demonstrating the widespread utility of physics and the unity of science. To aid in comprehension, calculations involving calculus are carried out with a good deal of detail and discussion. Each chapter features a checklist of terms to define or explain as well as problems and exercises. Additional problems and exercises are located in the Supplementary Topics section.
Table of contents
THE GENERAL LAWS OF MOTION.

Motion in a Straight Line.

Motion in Two Dimensions.

Newton's Laws of Motions.

Statics.

Circular Motion.

ADDITIONAL TOPICS IN MECHANICS.

Work, Energy, and Power.

Linear and Angular Momentum.

Elastic Properties of Materials.

Vibrational Motion.

HEAT.

Temperature and the Behavior of Gases.

Thermodynamics.

Thermal Properties of Matter.

FLUIDS.

The Mechanics of Nonviscous Fluids.

Viscous Fluid Flow.

Cohesive Forces in Liquids.

ELECTRICITY AND MAGNETISM.

Electric Forces, Fields, and Potentials.

Direct Currents.

Nerve Conduction.

Magnetism.

Induced Currents and Fields.

WAVE MOTION.

The Description of Wave Motion.

Sound.

Wave Properties of Light.

Mirrors, Lenses, and Imaging Systems.

MODERN PHYSICS.

Special Relativity.

Particle Properties of Light: The Photon.

Wave Properties of Matter.

ATOMS AND MOLECULES.

Quantum Mechanics and Atomic Structure.

The Structure of Matter.

THE ATOMIC NUCLEUS.

Nuclear Physics.

Ionizing Radiation.

Appendices.

Answers to Odd Numbered Exercises and Problems.

Index.