Introduction to Planning Practice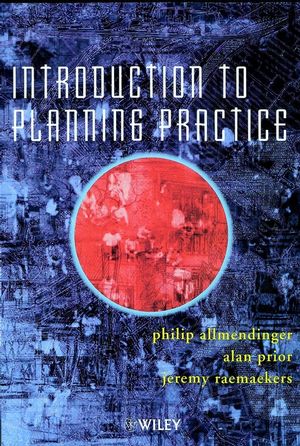 Introduction to Planning Practice
ISBN: 978-0-471-98522-8 June 2000 450 Pages
Description
This book is aimed at students on town planning and related courses, as well as practitioners who want to locate their practice within the broadening activity of town planning. It is written by practising town planners and academics with practice experience, and the chapters include many case studies which make connections for the reader between theory and practice. The book does not aim to be comprehensive, but to lay out the terrain in the key areas. It is a gateway to the exciting and varied world of town planning, which should stimulate the reader to want to find out more. It should heighten the appreciation of practice in all its forms and widen the horizons of the world of the professional town planner.
Table of contents
What is Planning and What Do Planners Do? (C. Hague).
Planning for Sustainable Development (J. Raemaekers).
Development Plans (A. Prior).
Development Control (D. Groves).
Central Government Planning Policy (M. Quinn).
Urban Renewal and Grants (C. Couch).
Housing (M. Satsangi).
Retail Development (G. Mappin P. Allmendinger).
Planning for Transport (C. Carr I. Docherty).
Town Centre Management (J. Grail).
The Built Environment and Design (M. Higgins A. Karski).
Planning to Conserve the Natural Heritage (J. Raemaekers).
Planning for Minerals, Waste and Contaminated Land (J. Raemaekers).
Tourism and Local Economic Development (T. Shaw).
Public Participation, Equal Opportunities, Planning Policies and Decisions (R. Darke).
Ethics and Town Planning (A. Prior).
Conclusions (J. Raemaekers, et al.).
Index.
Reviews
"...a valuable edition to the current planning textbooks..." (Urban Studies, Vol.38, No.13, 2001)