Java 2 Enterprise Edition 1.4 (J2EE 1.4) Bible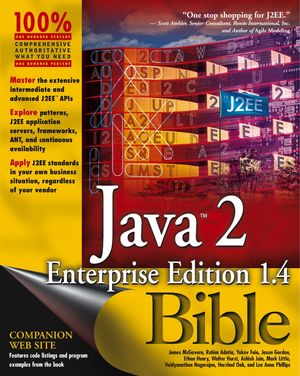 Java 2 Enterprise Edition 1.4 (J2EE 1.4) Bible
ISBN: 978-0-764-53966-4
Aug 2003
1008 pages
Product not available for purchase
Description
Java 2 Enterprise Edition (J2EE) is the specification that all enterprise Java developers need to build multi-tier applications, and also the basis for BEA's WebLogic Application Server and IBM's WebSphere
Revised to be current with the significant J2EE 1.4 update that will drive substantial developer interest
Written by a top-selling team of eleven experts who provide unique and substantial business examples in a vendor-neutral format, making the information applicable to various application servers
Covers patterns, J2EE application servers, frameworks, Ant, and continuous availability
Includes extensive intermediate and advanced coverage of J2EE APIs
Companion Web site provides additional examples and information
Foreword.
Acknowledgments.
Introduction.
Part I: Introduction.
Chapter 1: Understanding Java and the J2EE Platform.
Chapter 2: Reviewing XML Fundamentals.
Chapter 3: Introducing Application Servers.
Chapter 4: Understanding Remote Method Invocation.
Part II: The Presentation Tier.
Chapter 5: Studying Servlet Programming.
Chapter 6: Going Over JSP Basics.
Chapter 7: Using JSP Tag Extensions.
Part III: The Enterprise Information System Tier.
Chapter 8: Working with JavaMail.
Chapter 9: Understanding the Java Messaging Service.
Chapter 10: Introducing Java Transactions.
Chapter 11: Examining JNDI and Directory Services \.
Chapter 12: Understanding Java Authentication and Authorization Services.
Chapter 13: Exploring Java Cryptography Extensions.
Part IV: The Service Tier.
Chapter 14: Understanding EJB Architecture and Design.
Chapter 15: Explaining Session Beans and Business Logic.
Chapter 16: Working with Entity Beans.
Chapter 17: Using Message-Driven Beans.
Part V: The Data Tier.
Chapter 18: Reviewing Java Database Connectivity.
Chapter 19: Understanding the J2EE Connector Architecture.
Part VI: Web Services.
Chapter 20: Introducing Web Services.
Chapter 21: Digging Deeper into SOAP, WSDL, and UDDI.
Chapter 22: Understanding J2EE Web Services.
Part VII: Patterns.
Chapter 23: Reviewing Presentation-Tier Patterns.
Chapter 24: Working with Service-Tier Patterns.
Chapter 25: Using Data-Tier Patterns.
Part VIII: Advanced Topics.
Chapter 26: Exploring Frameworks and Application Architecture.
Chapter 27: Using ANT to Build and Deploy Applications.
Chapter 28: Creating High-Performance Java Applications.
Appendix A: Airline Reservations Business Case.
Appendix B: Magazine Publisher Business Case.
Appendix C: Additional Reading and References.
Index.
Chapter
Page
Details
Date
Print Run
4
Mislabeled figure 1.1
Figure 1.1 is actually on page 6 labeled Figure 1.2.
1/22/04

---

6
Mislabeled figure 1.2
Figure 1.2 is actually on page 4 labeled Figure 1.1.
1/22/04

---

666
Extra text that should be deleted
In the paragraph below the cross reference icon, in the 1st line: "Deleted, if so WHY?---JG" should be deleted.
9/14/04

---

690
Extra text that should be deleted
In the bulleted list, in the 3rd bullet: "Okay-JG" should be deleted.
9/14/04

---