Market Indicators: The Best-Kept Secret to More Effective Trading and Investing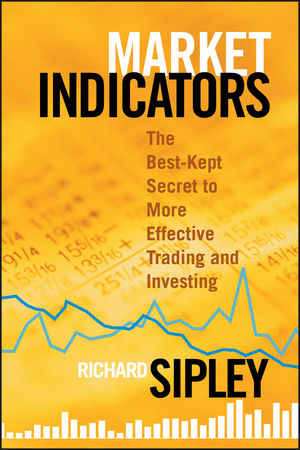 Market Indicators: The Best-Kept Secret to More Effective Trading and Investing
ISBN: 978-1-576-60331-4 November 2009 256 Pages
Description
A smart trader needs to know what other traders are thinking and doing. Professional traders and investors use a wide range of indicators—some well-known, some not so well-known—to gauge the state of the market.

Market Indicators introduces the many key indicators used by professional traders and investors every day. Having stood the test of time, these indicators will alert the trader to market situations that offer the best chance to trade profitably.

Richard Sipley is a portfolio manager for Boston Private Bank and Trust Company, responsible for trading millions of dollars of assets. Sipley uses these indicators every day in his trading and investing, and he draws on that experience to explain what they are, how they work, and how to use them.
Table of contents
Acknowledgments.
Introduction.

Part I Measuring Investor Actions.
1 Clues from the Options Market.
2 Big Money on the Move.
3 Fast Money on the Move.
4 Follow the Money: Cash, Debt, and Shorts.
5 Too Far, Too Fast.
6 Relative Value.

Part II Considering the Human Element.
7 Sentiment Surveys.
8 Analyzing the Analysts.
9 Reporting the Financial News, Gauging the Investor's Psyche.
10 Sitting and Watching.

Part III Following the Smart Money.
11 The Insiders.
12 Looking to the Futures.
13 Giving Credit to the Bond Market.
14 Money In, Money Out (IPOs, Secondaries, Mergers, Buybacks, and Dividends).
15 Tracking the Trailblazers.

Conclusion.
Notes.
Index.