Noise and its Effects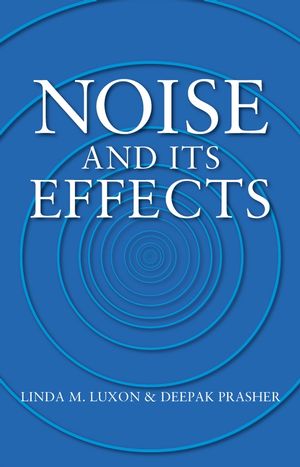 Noise and its Effects
ISBN: 978-1-861-56409-2 April 2007 800 Pages
Description
Noise is an increasing problem in everyday life, and many noise-induced hearing problems are irreversible. This book focuses on all aspects of noise-related problems, including noise effects on stress levels, functional changes after noise-induced cochlear damage, occupational hearing loss and noise conservation problems.
Table of contents
Foreword.
Preface.
Contributors.
Chapter 1:  Physical characteristics of sound (RD Knight and DM Baguley).
Chapter 2: Measurement of noise (Paul Radomskij).
Chapter 3: Interactions between noise exposure and ageing: peripheral and central auditory systems (Sandra L McFadden and James F Willott).
Chapter 4: Interaction of noise-induced hearing loss and ageing: epidemiological aspects (Doris-Eva Bamiou and Mark E Lutman).
Chapter 5: Cochlear pathophysiology in response to hazardous noise (Carole M Hackney and David N Furness).
Chapter 6: Functional changes in the central auditory system after noise-induced cochlear damage (RJ Salvi, J Wang and DM Caspary).
Chapter 7: Factors determining an individual's susceptibility to noise damage (Deepak Prasher).
Chapter 8: Measurement of hearing thresholds (Stig Arlinger).
Chapter 9: Noise-induced hearing loss and tinnitus in children – a matter of diagnostic criteria (KM Holgers, Å Bratthall and ML Barrenäs)?
Chapter 10: Clinical diagnosis of noise-induced hearing loss (Ian Colvin and Linda Luxon).
Chapter 11: Disability assessment in noise-induced hearing loss (Philip H Jones).
Chapter 12: Tinnitus and external sounds (Borka Ceranic).
Chapter 13: The effects of blast on the ear (Alan G Kerr).
Chapter 14: Interaction of noise, general medical disorders and state of health with hearing (Ulf Rosenhall).
Chapter 15: Methodology and value of databases: an individual hearing conservation programme (Esko Toppila, Ilmari Pykkö, Jukka Starck, Ann-Christin Johnson and Martti Juhola).
Chapter 16: Environmental noise: a contextual public health perspective (Peter Lercher).
Chapter 17: Estimating the risk of hearing impairment due to impulse noise exposure (Guido F Smoorenburg).
Chapter 18: Occupational noise (Wieslaw J Sulkowski).
Chapter 19: Military noise-induced hearing loss (J Attias, AY Duvdevany, I Reshef-Haran,  Zilberberg and B Nageris).
Chapter 20: The hazardous aspects of music (Rosalyn A Davies).
Chapter 21: Organic solvent exposures and occupational hearing loss (Mariola Sliwinska-Kowalska and Ewa Zamyslowska-Szmytke).
Chapter 22: Noise hazards in the medical environment (Moshe Chaimoff and Linda M Luxon).
Chapter 23: Stress effects of noise (Hartmut Ising and Barbara Kruppa).
Chapter 24: Stress and noise – the psychological/physiological perspective and current limitations (Christian Maschke and Karl Hecht).
Chapter 25: Noise and cognitive performance in children and adults (Gary W Evans and Staffan Hygge).
Chapter 26: Noise and sleep (Barbara Griefahn).
Chapter 27: Measurements, standards and laws (Ronald Hinchcliffe).
Chapter 28: Preventing hearing loss by sound conditioning (Barbara Canlon and Xianzhi Niu).
Chapter 29: Industrial noise control (Terry Bramer).
Chapter 30: Hearing protectors (Jukka Starck, Esko Toppila and Ilmari Pyykkö).
Chapter 31: Audiological rehabilitation programmes and the ICF (KM Holgers and ML Barrenäs).
Chapter 32: Target groups in prevention of health effects from listening to music (B Pettersson).
Chapter 33: Agencies involved with noise (Dietrich H Schwela and Andrew W Smith).
Index.