Playing For Keeps: How the World's Most Aggressive and Admired Companies Use Core Values to Manage, Energize, and Organize Their People, and Promote, Advance, and Achieve Their Corporate Missions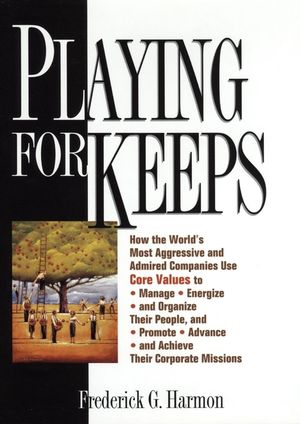 Playing For Keeps: How the World's Most Aggressive and Admired Companies Use Core Values to Manage, Energize, and Organize Their People, and Promote, Advance, and Achieve Their Corporate Missions
ISBN: 978-0-471-59847-3
Mar 1996
288 pages
Product not available for purchase
Description
"The small individual act is the basic cell of all performance . . . The secret behind outstanding companies, departments, or contributors is simply that they work harder at adding value to their individual acts." -Frederick G. Harmon

In this eye-opening book, Frederick Harmon takes a hard look at the factors that most contribute to a company's profitability, and he comes to some surprising conclusions. With compelling logic, he shows how a company's core values are often the true determinants of its overall success or failure. New strategies, reorganization plans, management techniques, important as they are, depend, in the final analysis, on a foundation of basic values that influence even the most routine acts. "Managers manage neither results nor numbers," he concludes. "They manage the quality of individual acts." In this authoritative book, Harmon explains how to define and implement core values in an organization, and how to measure their effect on the "individual acts" and, therefore, on the bottom line.

Drawing on decades of experience as a consultant to major corporations, as a senior executive of the American Management Association, and as a writer for The Wall Street Journal, Harmon focuses first on the dynamic characteristics of values-driven leadership. He analyzes the different styles of leadership, how they culminate in a "new management synthesis," and how managers can use carefully defined values to energize an entire organization.

In the central section of Playing for Keeps, Harmon delineates six specific proactive steps executives can take to build a truly "values-driven" company. Beginning with a firm commitment to new ideals and values, moving through implementation, and concluding with ways of measuring and recognizing success, Harmon shows how to bring about a "commonplace miracle" in any organization, large or small.

The final section, "Values in Action: Applications," enables managers to match specific values to the different phases of a company's growth and development, including entrepreneurial, turnaround, and global values. With actual case studies, Playing for Keeps shows how a broad range of aggressive, successful companies, including GE, Walt Disney, American Express, Levi Strauss, and Intel have implemented values projects to help them maintain a competitive advantage.

For managers, executives, and entrepreneurs, Playing for Keeps is an invaluable guide to unlocking greater profitability through values implementation; it is an invitation to "look behind the numbers, and core values will appear like gold nuggets on the ground."

"Playing for Keeps is for businesspeople who are interested in harnessing the potential of people." -William Pollard, Chairman The ServiceMaster Company

"An insightful look at the way strong corporate values provide a framework for management's actions. The book underscores the important role that values play in the development of a successful company." -Donald J. Schuenke Retired Chairman and CEO The Northwestern Mutual Life Insurance Company

"At a time when so much-indeed, too much-has been written at the rarified academic level, Fred Harmon's new book, with its practical, commonsense, 'real world' approach, is like a breath of fresh air." -Domenico Fanelli, President American Management Association International

Better values mean bigger profits

Playing for Keeps shows how company values have an extraordinary but often overlooked impact on the small "individual acts" that add up to success or failure for an entire organization. With compelling logic and numerous real-world examples, this invaluable guide demonstrates how managers, executives, and entrepreneurs can unleash the dormant power of these values within their companies. It offers a complete program for choosing, defining, and implementing sets of values that help advance the goals of any organization, large or small, and shows how to measure the effects of a values implementation program on the bottom line.
Partial table of contents:

CORE VALUES: THE ONCE AND FUTURE FRONTIER.

Behind the Numbers.

The Other Side of the Balance Sheet.

TOWARD VALUES-DRIVEN LEADERSHIP: ISSUES AND STRATEGIES.

Three Modes of Leadership.

The Next Management Synthesis.

Adding Value to Systems.

SIX STEPS TO A VALUES-DRIVEN COMPANY.

Implementing Step One: Commitment.

Implementing Step Two: Communicate!

Communicate!

Communicate!

Implementing Step Three: Educating Champions.

Implementing Step Five: The Empowered Organization.

VALUES IN ACTION: APPLICATIONS.

At the Creation: Entrepreneurial Values.

Crossing the Frontier: Global Values.

33 Common Questions About Values.

The Leader with a Thousand Faces.

Notes.

Index.