Smart Light-Responsive Materials: Azobenzene-Containing Polymers and Liquid Crystals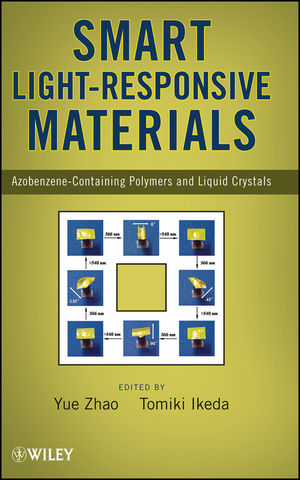 Smart Light-Responsive Materials: Azobenzene-Containing Polymers and Liquid Crystals
ISBN: 978-0-470-17578-1
Mar 2009
544 pages
Description
This book reviews the cutting-edge significant research in the field of smart light-responsive materials based on azobenzene polymers and liquid crystals. Emphasis is placed on the discovery of new phenomena from the past 5 years, their underlying mechanisms, new functionalities, and properties achieved through rational design. Edited by leading authorities in the field, Zhao and Ikeda, the chapters are authored by an internationally-recognized team of experts from North America, Europe, and Asia. Smart Light-Responsive Materials will serve to catalyze new research that will lead this field over the next 5-10 years.
Preface.
1. Azobenzene Polymers for Photonic Applications (Kevin G. Yager and Christopher J. Barrett).
2. Photo-Induced Phenomena in Supramolecular Azobenzene Materials (Joachim Stumpe, Olga Kulikovska, Leonid M. Goldenberg and Yuriy Zakrevskyy).
3. Photodeformable Materials and Photo-Mechanical Effects Based on Azobenzene-Containing Polymers and Liquid Crystals (Yanlei Yu and Tomiki Ikeda).
4. Amorphous Azobenzene Polymers for Light-Induced Surface Patterning (Kevin G. Yager and Christopher J. Barrett).
5. Azo Polymer Colloidal Spheres: Formation, Two-dimensional Array and Photoresponsive Properties (Xiaogong Wang).
6. Azobenzene-Containing Block Copolymer Micelles: toward Light-Controllable Nanocarriers (Yue Zhao).
7. Associates between Azobenzene-modified Polymers and Surfactants or Nanoparticles to Amplify Macroscopic Photo-transitions in Solution (Christophe Tribet).
8. Light-Responsive 2D Motions and Manipulations in Azobenzene-Containing Liquid Crystalline Polymer Materials (Takahiro Seki).
9. Photo-induced Immobilization of Molecules on the surface of Azobezene Polymers: Principles and Application (Osamu Watanabe).
10. Photo-tuning of Helical Structure of Cholesteric Liquid Crystals (Seiji Kurihara).
11. Tunable Diffraction Gratings Based on Azobenzene Polymers and Liquid Crystals (Yue Zhao).
12. Azo Block Copolymers in Solid State (Haifeng Yu and Tomiki Ikeda).
13. Photoresponsive Hybrid Silica Materials Containing Azobenzene Ligands (Nanguo Liu and C. Jeffrey Brinker).