Soil and Groundwater Remediation: Fundamentals, Practices, and Sustainability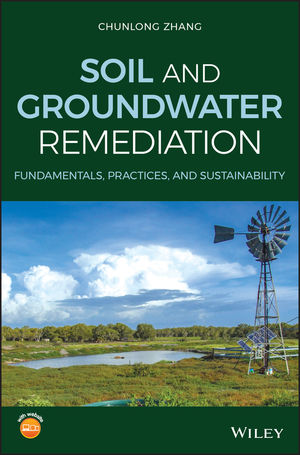 Soil and Groundwater Remediation: Fundamentals, Practices, and Sustainability
ISBN: 978-1-119-39315-3 October 2019 512 Pages
Download Product Flyer
Download Product Flyer
Download Product Flyer is to download PDF in new tab. This is a dummy description. Download Product Flyer is to download PDF in new tab. This is a dummy description. Download Product Flyer is to download PDF in new tab. This is a dummy description. Download Product Flyer is to download PDF in new tab. This is a dummy description.
Description
An introduction to the principles and practices of soil and groundwater remediation
Soil and Groundwater Remediation offers a comprehensive and up-to-date review of the principles, practices, and concepts of sustainability of soil and groundwater remediation. The book starts with an overview of the importance of groundwater resource/quality, contaminant sources/types, and the scope of soil and groundwater remediation. It then provides the essential components of soil and groundwater remediation with easy-to-understand design equations/calculations and the practical applications.
The book contains information on remediation basics such as subsurface chemical behaviors, soil and groundwater hydrology and characterization, regulations, cost analysis, and risk assessment. The author explores various conventional and innovative remediation technologies, including pump-and-treat, soil vapor extraction, bioremediation, incineration, thermally enhanced techniques, soil washing/flushing, and permeable reactive barriers. The book also examines the modeling of groundwater flow and contaminant transport in saturated and unsaturated zones. This important book:
Presents the current challenges of remediation practices
Includes up-to-date information about the low-cost, risk-based, sustainable remediation practices, as well as institutional control and management
Offers a balanced mix of the principles, practices, and sustainable concepts in soil and groundwater remediation
Contains learning objectives, discussions of key theories, and example problems
Provides illustrative case studies and recent research when remediation techniques are introduced
Written for undergraduate seniors and graduate students in natural resource, earth science, environmental science/engineering, and environmental management, Soil and Groundwater Remediation is an authoritative guide to the principles and components of soil and groundwater remediation that is filled with worked and practice problems.
Table of contents
About the author
Preface
Acknowledgements
List of Symbols
Whom This Book Is Written For
To the Instructor
Chapter 1: Sources & Types of Soil and Groundwater Contamination
1.1 Uses of Surface Water vs. Groundwater
1.2 Groundwater Quantity vs. Groundwater Quality
1.3 Major Factors Affecting Groundwater Quality
1.4 Soil and Groundwater Contaminant Sources in the U.S.
1.4.1 Superfund Sites and Brownfields
1.4.2 RCRA Facilities and Underground Storage Tanks
1.4.3 DoD/DoE Sites
1.5 Contaminated Soil and Groundwater: A Global Perspective
1.6 Soil and Groundwater Remediation
1.6.1 Unique Challenges Relative to Air and Surface Water Pollution
1.6.2 Scope of Environmental Remediation
Box 1.1 Interactions between Surafce Water and Groundwater
Box 1.2 The Love Canal Tragedy
Box 1.3 Superfund Sites: How Many? What Matrices? What Contaminants
Box 1.4 Superfund Sites vs. Brownfield Sites
Chapter 2: Subsurface Contaminant Fate and Transport
2.1 Frequent Soil and Groundwater Contaminants
2.1.1 Aliphatic and Aromatic Hydrocarbons
2.1.2 Halogenated Aliphatic Hydrocarbons
2.1.3 Halogenated Aromatic Hydrocarbons
2.1.4 Nitrogen Containing Organic Compounds
2.1.5 Oxygenated Organic Compounds
2.1.6 Sulfur and Phosphorous Containing Compounds
2.1.7 Inorganic Non-Metals, Metals, and Radionuclides
2.2 Abiotic and Biotic Chemical Fate Processes
2.2.1 Hydrolysis
2.2.2 Oxidation and Reduction
2.2.3 Biodegradation
2.3 Inter-Phase Chemical Transport
2.3.1 Volatilization
2.3.2 Solubilization, Precipitation and Dissolution
2.3.2.1 Solubility and Solubility Product for Inorganic Compounds
2.3.2.2 Solubility and Kow for Organic Compounds
2.3.3 Sorption and Desorption
2.4 Intraphase Chemical Movement
2.4.1 Advection
2.4.2 Dispersion and Diffusion
Box 2.1 Emerging Soil and Groundwater Contaminants
Box 2.2 Biodegradation of 2,4-DNT: Biotransformation vs. Mineralization
Box 2.3 Henry's Law Constant: How Volatile is Volatile?
Box 2.4 Practically Useful Guidelines for Chemical Properties
Chapter 3: Soil and Groundwater Hydrogeology
3.1 Soil Composition and Properties
3.1.1 Constituents of Soils
3.1.2 Soil Physical and Chemical Properties
3.2 Basic Concepts of Aquifer and Wells
3.2.1 Vertical Distribution of Aquifer
3.2.2 Groundwater Well and Well Nomenclature
3.2.3 Hydrogeological Parameters
3.2.3.1 Specific Yield and Specific Retention
3.2.3.2 Hydraulic Conductivity and Permeability
3.2.3.3 Transmissivity and Storativity
3.3 Groundwater Movement
3.3.1 Flow in Saturated Zone
3.3.2 Flow in Unsaturated Zone
3.3.3 Flow to Wells in a Steady-State Confined Aquifer
3.3.4 Flow to Wells in a Steady-State Unconfined Aquifer
3.3.5 Flow of Non-Aqueous Phase Liquid
Box 3.1 Soil Clays: Essential for Soil Fertility and Useful as Landfill Liners
Box 3.2 Groundwater Well Nomenclature
Box 3.3 Bernoulli's Equation: What is Head and Hydraulic Head?
Chapter 4: Legal, Economical, and Risk Assessment Considerations
4.1 Soil and Groundwater Protection Laws
4.1.1 Relevant Soil and Groundwater Laws in the U.S.
4.1.1.1 Safe Drinking Water Act
4.1.1.2 Resource Conservation and Recovery Act
4.1.1.3 Comprehensive Environmental Response, Compensation and Liability Act
4.1.1.4 Hazardous and Solid Waste Amendment
4.1.1.5 Superfund Amendment and Reauthorization Act
4.1.1.6 Small Business Liability Relief and Brownfields Revitalization Act
4.1.2 Framework of Environmental Laws in Other Countries
4.2 Cost Constraints in Remediation
4.2.1 Remediation Cost Elements
4.2.2 Basis for Remediation Cost Estimates
4.2.3 Cost Comparisons among Remediation Alternatives
4.3 Risk-Based Remediation
4.3.1 How Clean Is Clean
4.3.2 Estimate Environmental Risk from Carcinogenic Compounds
4.3.3 Estimate Environmental Risk from Non-Carcinogenic Compounds
4.3.4 Determine Risk-Based Clean-up Levels for Soil and Groundwater
4.3.4.1 Determining Maximum Concentration in Drinking Water and Air
4.4.4.2 Determining Allowable Soil Clean-up Level
4.3.4.3 Risk Involving Multimedia
Box 4.1 Basic Terms Relevant to Environmental Legislature
Box 4.2 Engineering Economics in Environmental Remediation
Box 4.3 What Is the Cleanup Risk Tolerance? When to Stop Remediation?
Box 4.4 The ASTM Procedure for Risk Assessment
Chapter 5: Site Characterization for Groundwater Remediation
5.1 General Consideration of Site Characterization
5.1.1 Objectives and Scope of Site Characterization
5.1.2 Basic Steps: Phase I, II and III Assessment
5.2 Soil and Geologic Characterization
5.2.1 Stratigraphy, Lithology and Structural Geology
5.2.2 Direct Drilling Methods
5.2.3 Drive Method Using Cone Penetrometer
5.2.4 Indirect Geophysical Methods
5.3 Hydrogeologic Site Investigation
5.3.1 Well Installation, Development and Purging
5.3.2 Hydraulic Head and Flow Direction
5.3.2.1 Methods to Measure Hydraulic Head
5.3.2.2 Groundwater Flow Direction
5.3.3 Aquifer Tests to Estimate Hydraulic Conductivity
5.4 Environmental Sampling and Aanlysis
5.4.1 Common Soil Samplers
5.4.2 Groundwater Sampling
5.4.3 Vadose Zone Soil Gas and Water Sampling
5.4.4 Instruments for Chemical Analysis
Box 5.1 Site Assessment: Who Does the Work and What to Expect?
Chapter 6: Overview of Remediation Options
6.1 Types of Remediation Technologies
6.1.1 Classifications of Remediation Technologies
6.1.2 Common and Frequently Used Remediation Technologies
6.1.3 Technologies from Contaminant Perspectives
6.2 Development of and Selection Remediation Technologies
6.2.1 Remedial Investigation/Remedial Feasibility Study
6.2.2 Remediation Technologies Screening and Selection Criteria
6.2.3 Green and Sustainable Remediation
6.3 A Snapshot of Remediation Technologies
6.3.1 Description of Various Treatments
6.3.2 Treatment Trains
Box 6.1 Institutional (Non-Engineered) Controls for Site Remediation
Box 6.2 Radioactive Wastes: It Is Not Just NIMBY, It Is NOPE!
Chapter 7: Pump and Treat
7.1 General Applications of Conventional Pump-and-Treat
7.1.1 Contaminant Removal vs. Hydraulic Containment
7.1.2 Schemes of Injection / Extraction Well Placement
7.2 Design of Pump-and-Treat Systems
7.2.1 Capture Zone Analysis of Pump-and-Treat Optimization
7.2.2 Aboveground Treatment of Contaminated Groundwater
7.2.2.1 General Treatment Technologies Available
7.2.2.2 Design Consideration for Air Stripping
7.2.2.3 Design Consideration for Activated Carbon
7.3 Pump-and-Treat Limitations and Alterations
7.3.1 Residual Saturations of Non-Aqueous Phase Liquid
7.3.2 Tailing and Rebound Problems
7.3.3 Alterations of Conventional Pump-and-Treat
Box 7.1 Comparison of Sustainability: Horizontal vs. Vertical Drilling
Box 7.2 Hydraulic Fracturing: The Good and Bad
Box 7.3 Green Remediation and BMPs in Pump-and-Treat
Case Study The Marine Corp Air Station, Camp Lejenue, NC, USA
Chapter 8: Soil Vapor Extraction and Air Sparging
8.1 General Applications and Limitations of Vapor Extraction
8.1.1 Process Description and System Components
8.1.2 Chemical and Geologic Parameters Affecting Vapor Extraction
8.1.3 Pros and Cons of Vapor Extraction and Air Sparging
8.2 Soil Vapor Behavior and Gas Flow in Subsurface
8.2.1 Air Flow Patterns in Subsurface
8.2.2 Vapor Equilibrium and Thermodynamics
8.2.3 Kinetics of Volatilization, Vapor Diffusion, and NAPL Diffusion
8.2.3 Darcy's Law for Advective Vapor Flow
8.3 Design for Vapor Extraction and Air Sparging Systems
8.3.1 Quantitative Analysis for the Appropriateness of Soil Venting
8.3.2 Well Number, Flow Rate and Well Location
8.3.3 Other Design Considerations
Box 8.1 Hydraulic Conductivity, Intrinsic and Air Permeability
Box 8.2 Computer Models to Assist SVE Design: Hyperventilate
Box 8.3 Green Remediation and BMPs for SVE and Air Sparging
Case Study The Fairchild Superfund Site, Mountain View, CA, USA
Chapter 9: Bioremediation and Environmental Biotechnology
9.1 Principles of Bioremediation and Biotechnology
9.1.1 Microorganisms and Microbial Growth
9.1.2 Reaction Stoichiometry and Kinetics
9.1.3 Biodegradation Potentials and Pathways
9.1.4 Optimal Conditions for Bioremediation
9.2 Process Description of Bioremediation and Biotechnologies
9.2.1 In-Situ Bioremediation
9.2.2 Ex-Situ Biological Treatment
9.2.3 Sanitary Landfills
9.2.4 Phytoremediation and Constructed Wetland
9.3 Design Consideration and Cost-Effectiveness
9.3.1 General Design Rationales
9.3.2 Cost-Effectiveness Case Studies
Box 9.1 Environmental Biotechnology
Box 9.2 Superbugs and Genetically Modified Bacteria
Box 9.3 Phytoremediation in Chernobyl Nuclear Power Plant, Soviet Union
Box 9.4 Green Remediation Best Management Practices for Bioremediation
Case Study 1 Bioventing at Hill Air Force Base, Salt Lake City, Utah, USA
Case Study 2 Pilot-Scale Bioslurry Reactors for Explosive Remediation
Case Study 3 Landfarming of Kerosine Spilled Soil, New Jersey, USA
Case Study 4 Phytoremediation at Naval Air Station, Fort Worth, Texas, USA
Chapter 10: Thermal Remediation Technologies
10.1 Thermal Destruction by Incineration
10.1.1 Principles of Combustion and Incineration
10.1.2 Components of Hazardous Waste Incineration Systems
10.1.3 Design Consideration for Incineration
10.1.4 Regulatory and Siting Considerations
10.2 Thermally Enhanced Technologies
10.2.1 Temperature Effects on Physicochemical and Biological Properties
10.2.2 Heat Transfer Mechanisms in Soil and Groundwater
10.2.3 Required Heat-up Time and Radius of Influence
10.2.4 Use of Hot Air, Steam, Hot Water and Electro-Heating
10.3 Vitrification
Box 10.1 Charles' Law: Temperature-Volume Relationship at Constant Mass
Box 10.2 Le Chatelier's Principle: How Does Temperature Affect Equilibrium
Box 10.3 Green Remediation for In Situ Thermal Enhancement Technologies
Case Study 1 In Situ Steam Enhancement in Huntington Beach, CA, USA
Case Study 2 Radio-Frequency Heating with SVE, WI, USA
Chapter 11: Soil Washing and Flushing
11.1 Basic Principles of Soil Washing and Flushing
11.1.1 Overview of Soil Washing and Flushing
11.1.2 Surfactant Enhanced Contaminant Solubilization
11.1.3 Surfactant Enhanced Contaminant Mobilization
11.1.4 Co-Solvent Effects on Solubility and Mobilization
11.2 Process Description, Technology Applicability and Limitations
11.2.1 Ex-Situ Soil Washing
11.2.2 In-Situ Soil Flushing and Co-Solvent Flooding
11.3 Design and Cost-Effectiveness Considerations
11.3.1 Chemical Additives in Soil Washing and Flushing
11.3.2 Recycle of Chemical Additives and Disposal of Flushing Wastes
Box 11.1 Dispersant Use in the Gulf Oil Spill
Box 11.2 Green Chemicals (Surfactants) in Soil Washing and Flushing
Case Study 1 Pilot-Scale Soil Washing Efficiency for Dinitrotoluenes
Case Study 2 Soil Flushing at the Hill Air Force Base, Utah, USA
Case Study 3 Soil Washing at Vineland Chemical Superfund Site, Vineland, NJ, USA
Chapter 12: Permeable Reactive Barrier
12.1 Reaction Mechanisms and Hydraulics in Reactive Barriers
12.1.1 Barrier Technologies as a Viable Option for Pump-and-Treat
12.1.2 Dechlorination Mediated through Redox Reactions by Zero Valent Iron
12.1.3 Other Abiotic and Biotic Processes in Reactive Barriers
12.2 Process Description of Reactive Barriers
12.2.1 Configurations of Reactive Barriers
12.2.2 Available Reactive Media and Selection
12.3 Design and Construction Considerations
12.3.1 Barrier Design Concept
12.3.2 Construction Methods
Box 12.1 Nano-Zero Valent Iron in Remediation: Promise and Challenges
Box 12.2 PRBs versus Pump-and-Treat: Life Cycle Assessment
Case Study 1 Field-Scale PRB at the Denver Federal Center, Denver, Colorado, USA
Case Study 2 PRB at the U.S. Coast Guard Support Center in North Carolina, USA
Chapter 13: Modelling of Groundwater Flow and Contaminant Transport
13.1 Governing Equations for Groundwater Flow
13.1.1 Saturated Groundwater Flow under Steady State Condition (Laplace Equation)
13.1.2 Saturated Groundwater Flow under Transient Condition
13.1.3 Unsaturated Groundwater Flow under Transient Condition (Richards Equation)
13.2 Governing Equations for Contaminant Transport
13.2.1 General Mass Balance Equations Considering Advection and Dispersion
13.2.2 Governing Equations for Contaminant Transport in Unsaturated Zone
13.2.3 Governing Equations Incorporating Adsorption and Reaction
13.2.4 General Concepts and Equations Describing Multiphase Flow and Transport
13.3 Analytical Solutions to Flow and Transport Processes
13.3.1 Darcy's Law: 1-D Flow in Unconfined Aquifer (Dupuit Equation)
13.3.2 Fick's Second Law: 1-D Diffusion Only Process
13.3.3 Advection and Dispersion: 1-D, 2-D, and 3-D Solutions to Slug Injection
13.3.4 Advection and Dispersion: 1-D Solutions to Continuous Injection (1D)
13.3.5 Advection and Dispersion: 2-D and 3-D Solutions to Continuous Injection
13.4 Numerical Solutions to Flow and Transport Processes
13.4.1 Partial Differential Equations and Numerical Methods
13.4.2 2-D Laplace Equation Using Finite Difference Method
Box 13.1 Laplace Equation with Source – The Poisson's Equation
Box 13.2 XXX
Appendices
A. Common Abbreviations and Acronyms
B. Definition of Soil and Groundwater Remediation Technologies
C. Structures and Properties of Important Organic Pollutants in Soil and Groundwater
D. Unit Conversion Factors
E. Answers to Selected Problems
Index