The Terms of Political Discourse, 3rd Edition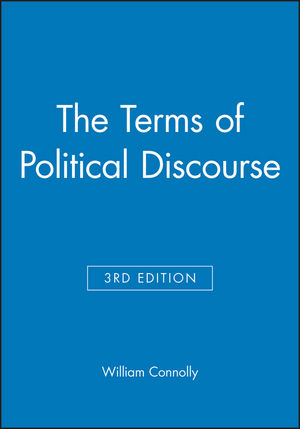 The Terms of Political Discourse, 3rd Edition
ISBN: 978-0-631-18959-6 October 1993 Wiley-Blackwell 284 Pages
Description
Power. Interest. Freedom. Responsibility. Connolly explores and confronts sets of interrelated concepts such as these - concepts whose meanings are persistently subject to debate in the context of political discourse. He illuminates the role played in political life and political enquiry by such conceptual contests. And in staking out his own position in these contests, he seeks both to politicize broad areas of social life and to weave norms of responsibility more thoroughly into politics.
Table of contents
Preface to the Second Edition.
Preface to the First Edition.
Introduction.
Part I: Essentially Contested Concepts in Politics:.
Essentially Contested Concepts.
An Example: 'Politics.'.
'Descriptive' and 'Normative' Concepts.
The Role of Ordinary Language.
Part II: Interests in Politics:.
The Import of Contests Over 'Interests'.
Interests as Policy Preference.
Utilitarian Interests.
Interests as Need Fulfillment.
Real Interests.
Appraisals of Real Interests.
Interest-Regarding Explanations.
Part III: Power and Responsibility:.
Forms of Power.
Power and Responsibility.
Toward a Paradigm of 'Having Power Over'.
Reviews
"Considered as a general introduction to contemporary political theory, social philosophy and the broader questions in political science, it can hardly be equalled. It is admirably lucid and concise in expression, and scholarly, original and profound in argument." J. N. Gray, Jesus College, Oxford
Features
The revised version of this classic introduction will be welcomed by a wide range of students and teachers familiar with earlier editions
As Connolly has become one of the leading American commentators on modernity his new introductory chapter will attract attention
book remains a standard introduction to some of the key concepts of contemporary political and social theory.