Tumors in Domestic Animals, 5th Edition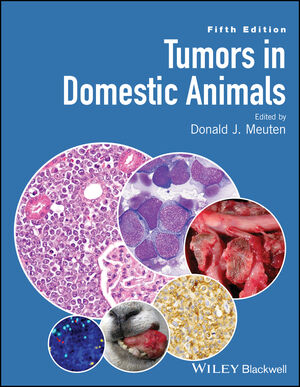 Tumors in Domestic Animals, 5th Edition
ISBN: 978-0-813-82179-5 November 2016 Wiley-Blackwell 1000 Pages
Description
Tumors in Domestic Animals, Fifth Edition is a fully revised new edition of the most comprehensive and authoritative reference on veterinary tumor pathology in common domestic animals, now in full color throughout with the most current advances in research and diagnostics.
Now in full color with hundreds of exquisite new images showing diagnostic features, pathogenesis, and techniques
Adds new sections on relevant clinical pathology and oncology
Updated throughout to include the very latest advances in research and diagnostics
Takes a logical, user-friendly system approach
Written by leading experts on animal tumor pathology
Table of contents
List of Contributors, vi
Preface, vii
1 An Overview of Molecular Cancer Pathogenesis, Prognosis, and Diagnosis, 1
John M. Cullen and Matthew Breen
2 Trimming Tumors for Diagnosis and Prognosis, 27
Paul C. Stromberg and Donald J. Meuten
3 Immunohistochemistry: Fundamentals and Applications in Oncology, 44
José A. Ramos]Vara and Luke B. Borst
4 Epithelial and Melanocytic Tumors of the Skin, 88
Michael H. Goldschmidt and Kyle H. Goldschmidt
5 Mesenchymal Tumors of the Skin and Soft Tissues, 142
Mattie J. Hendrick
6 Mast Cell Tumors, 176
Matti Kiupel
7 Tumors of the Hemolymphatic System, 203
Victor E. Valli, Dorothee Bienzle, Donald J. Meuten, and Keith E. Linder
8 Canine and Feline Histiocytic Diseases, 322
Peter F. Moore
9 Tumors of Joints, 337
Linden E. Craig and Keith G. Thompson
10 Tumors of Bone, 356
Keith G. Thompson and Keren E. Dittmer
11 Tumors of Muscle, 425
Barry J. Cooper and Beth A. Valentine
12 Tumors of the Respiratory Tract, 467
Dennis W. Wilson
13 Tumors of the Alimentary Tract, 499
John S. Munday, Christiane V. Löhr, and Matti Kiupel
14 Tumors of the Liver and Gallbladder, 602
John M. Cullen
15 Tumors of the Urinary System, 632
Donald J. Meuten and Travis L.K. Meuten
16 Tumors of the Genital Systems, 689
Dalen W. Agnew and N. James MacLachlan
17 Tumors of the Mammary Gland, 723
Michael H. Goldschmidt, Laura Peña, and Valentina Zappulli
18 Tumors of the Endocrine Glands, 766
Thomas J. Rosol and Donald J. Meuten
19 Tumors of the Nervous System, 834
Robert J. Higgins, Andrew W. Bollen, Peter J. Dickinson, and Sílvia Sisó-Llonch
20 Tumors of the Eye, 892
Richard R. Dubielzig
21 Tumors of the Ear, 923
Bradley L. Njaa
Appendix: Diagnostic Schemes and Algorithms, 942
Introduction, 942
Mitotic count, 944
Canine melanomas and melanocytic neoplasms, 946
Histologic grading of canine cutaneous mast cell tumors, 948
Prognosis of canine cutaneous mast cell tumors, 949
Canine subcutaneous mast cell tumors, 951
Cytologic grading of canine cutaneous mast cell tumors, 952
Evaluation of regional lymph node metastasis in canine cutaneous mast cell tumors, 953
Canine oral perioral mast cell tumors, 955
Feline cutaneous mast cell tumors, 956
Canine soft tissue mesenchymal tumor (sarcoma), 957
Canine soft tissue mesenchymal tumor: Future?, 959
Joint tumors in dogs, 960
Lymphoma and lymphoid leukemia prognoses, 961
Enlarged lymph node evaluation in dogs, 965
Bone marrow evaluation, 966
PARR (PCR for antigen receptor rearrangement), 967
Canine and feline nasal tumors, 969
Scoring system and prognosis for canine lung tumors, 970
Histologic grading and prognosis for feline lung tumors, 971
Mammary, 972
Urothelial (transitional) cell carcinoma (UC), 973
Skin masses, 975
Canine breed predispositions for epidermal and melanocytic tumors, 976
Index, 979
Reviews
"The fifth edition of Tumors in Domestic Animals has some substantial changes from the previous edition, the most immediately striking of which is the inclusion of color, which greatly adds to the illustrative power of the images. This edition contains several new chapters and updates to other chapters. Particularly noteworthy are the new chapters on trimming tissue specimens for submission and immunohistochemistry and updates to chapter 1, the section on lymphoma, and the diagnostic and prognostic algorithms in the appendices. Overall, the information contained in this book reflects the substantial progress made in veterinary oncology during the 15 years since the previous edition was released"..... "Overall, this book is reasonably priced and should be in the library of anyone with an interest in veterinary pathology or clinical oncology."
(Reviewed by Claire Cannon, BVSc, DACVIM, University of Minnesota 15th June 2017 AVMA)


"Tumors in domestic animals commences with a brief introduction to cancer biology, followed by a discussion of the processes required for tissue specimens to be examined by pathologists, including trimming tumours and margin evaluation. This information is invaluable for clinicians to ensure they provide the most useful samples, allowing pathologists to make the most accurate diagnosis....This text will be a welcome addition to every small animal veterinarian's library, but particularly so for those with a keen interest in oncology and pathology." -Australian Veterinary Journal Vol.96, No. 12, December 2018