Hospitality Sales: A Marketing Approach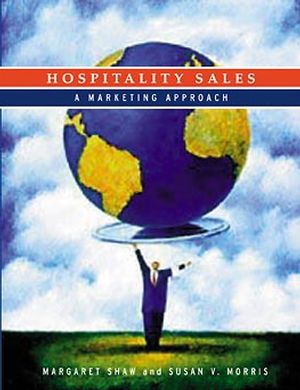 Hospitality Sales: A Marketing Approach
ISBN: 978-0-471-29679-9 September 1999 352 Pages
Description
For a required or elective course in Hospitality Sales and Introductory Sales Training for Industry taught out of the hospitality management or marketing program at the freshman/sophomore level at the two-year and four-year levels. Some hospitality programs will use this book in the lower level marketing course (taught out of the business school) as well.
Focused on the sales aspect of hospitality (not just marketing), this book addresses the primary focus of sales as the communication aspect of marketing as well as direct personal selling to potential customers. Shaw/Morris positions personal selling as having the right product, in the right place, at the right time, and at the right price applied to hotels or foodservice operations. With this emphasis on personal selling - the sales process, sales management, sales and technology - sales becomes integral to the student's understanding of operations and marketing.
Table of contents
SETTING THE STAGE.

Introduction to Sales and Marketing.

The Marketing Communication Mix.

THE PLAYERS.

Hospitality Customers: The Buyers.

Hospitality Businesses: The Suppliers.

Hospitality Businesses: More Suppliers.

PERSONAL SELLING AND SALES MANAGEMENT.

Personal Selling: The Sales Process.

Personal Selling: The Delivery.

Sales Management.

Sales and Technology: Part A Management and Operations.

Sales and Technology: Part B The Hospitality Customer.

INTERMEDIARIES AND PARTNERSHIPS.

Intermediaries.

Hospitality Partnerships.

Glossary.

Index.
Features
Focuses on personal selling, which links operations to marketing. Focuses on communicating solutions to fit customer needs.
Presents the nuts and bolts of hospitality sales with attention to current technology, both management and operations and customer service technology.
Examines the growing presence of supplier partnerships and relationship marketing.
Real-world case examples illustrate current concepts and practices that are relevant to students who will be entering into a hospitality career.
End-of-Chapter Summaries at the end of each chapter help students focus on the main concepts of each chapter and review key concepts