Getting Started in Tax Consulting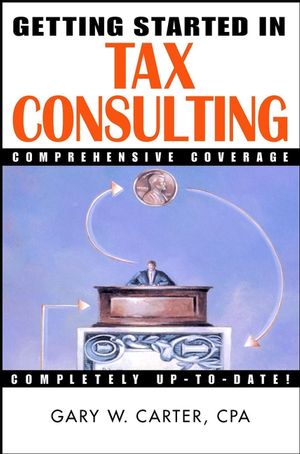 Getting Started in Tax Consulting
ISBN: 978-0-471-20143-4 March 2004 304 Pages
Description
The Complete, Authoritative Guide to Getting Started in Tax Consulting

Tax consulting and return preparation is a fast-paced, dynamic industry-one that promises high earning potential. In this book, tax advisor Gary Carter shows you just what it takes to become an in-demand tax consultant. You'll discover how to break into the tax business, even with relatively limited education and training, and build a path to your new career with Carter's five-step formula for success. Brimming with expert advice from tax professionals and featuring up-to-the-minute coverage of everything from qualifications and employment opportunities to Internet resources, Getting Started in Tax Consulting shows you how to:
* Assess your personality fit for the tax profession
* Formulate your business plan for starting a tax practice
* Find a niche for your tax services
* Choose between a sole proprietorship, a partnership, a C corporation, an S corporation, and a limited liability company
* Set your fees and market your services
* Perform research-an essential skill of the tax professional
* Make the IRS your partner and advisor-not your adversary
* Start a Web-based tax service
Table of contents
Acknowledgments.

Introduction.

The Role of a Tax Consultant.

Enduring Demand for Tax Services.

Self-Assessment and Education.

Your Business Plan.

Choices for Business Organization.

A Little about Taxes, Permits, and Record-Keeping.

Tax Research and the Tools of the Trade.

Starting and Running a Part-Time Web-Based Tax Service.

Getting to Know the Internal Revenue Service.

Conversations with Six Tax Professionals.

Appendix: Resource Guide.

Notes.

Index.