""A Few Acres of Snow"": The Saga of the French and Indian Wars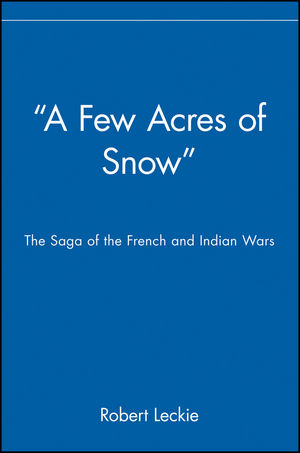 ""A Few Acres of Snow"": The Saga of the French and Indian Wars
ISBN: 978-0-471-39020-6
Sep 2000
400 pages
Description
""Leckie is a gifted writer with the ability to explain complicated military matters in layperson's terms, while sustaining the drama involved in a life-and-death struggle. His portraits of the key players in that struggle . . . are seamlessly interwoven with his exciting narrative."" -Booklist""As always, [Leckie] describes the maneuvers, battles, and results in telling detail with a cinematic style, and his portraits . . . are first-rate.""-The Dallas Morning News""Leckie's accounts of battles, important individuals, and the role of Native Americans bring to life the distant drama of the French and Indian Wars.""-The Daily Reflector

With his celebrated sense of drama and eye for colorful detail, acclaimed military historian Robert Leckie charts the long, savage conflict between England and France in their quest for supremacy in pre-Revolutionary America. Packed with sharply etched profiles of all the major players-including George Washington, Samuel de Champlain, William Pitt, Edward Braddock, Count Frontenac, James Wolfe, Thomas Gage, and the nobly vanquished Marquis de Montcalm-this panoramic history chronicles the four great colonial wars: the War of the Grand Alliance (King William's War), the War of the Spanish Succession (Queen Anne's War), the War of the Austrian Succession (King George's War), and the decisive French and Indian War (the Seven Years' War). Leckie not only provides perspective on exactly how the New World came to be such a fiercely contested prize in Western Civilization, but also shows us exactly why we speak English today instead of French-and reminds us how easily things might have gone the other way.
Partial Table of Content:

A CONTINENT IS DISCOVERED.

Christopher Columbus.

The Colonizing Contest Begins.

PRELUDE TO WARS.

Samuel de Champlain.

War in the Wilderness.

King Louis XIV of France.

Iroquois Revenge and King Philip's War.

WAR OF THE GRAND ALLIANCE, 1688-1697: (KING WILLIAM'S WAR).

Count Frontenac.

Frontenac and the Fur Trade.

Canada the Quarrelsome.

Sir William Phips Wins and Loses.

WAR OF THE SPANISH SUCCESSION, 1701-1714: (QUEEN ANNE'S WAR).

Anne Succeeds William.

WAR OF THE AUSTRIAN SUCCESSION, 1740-1748: (KING GEORGE'S WAR).

The ""Milishy"" Take Louisbourg.

SEVEN YEARS' WAR, 1756-1763: (FRENCH AND INDIAN WAR).

George Washington.

Defeat and Death of Braddock.

Washington: Patriot, Planter, Politician.

Retribution.

Selected Bibliography.

Index.