""I Wish I'd Said That!"": How to Talk Your Way Out of Trouble and Into Success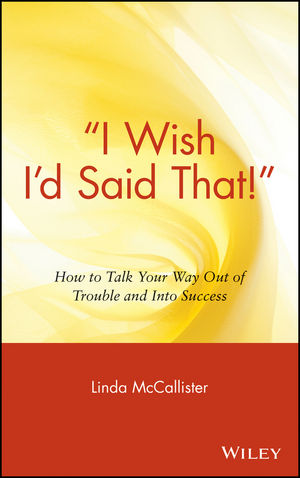 ""I Wish I'd Said That!"": How to Talk Your Way Out of Trouble and Into Success
ISBN: 978-0-471-55551-3 October 1992 313 Pages
Description
For anyone who's ever said, "I wish I hadn't said that;" or "I wish I'd said what I was really thinking;" this is for you. Based on the six styles of communication (noble, socratic, reflective, magistrate, candidate, senator), it shows you how to deal with difficult people who create stress and problems; how to influence your boss, colleagues and subordinates; and ultimately how to get the results you want. "Talking scenarios" reveal what it "sounds" like when people talk their way into or out of trouble. You'll also discover how to create the sound of success and deal with styles of people who communicate such as Woody Allen, Margaret Thatcher or Geraldo Rivera. Communication Style Profile Tests enable you to measure how effectively you communicate.
Table of contents
WHAT IS STYLE AND HOW DOES IT WORK?
I Wish I Hadn't Said That!
The Six Styles of Communication.
HOW TO CREATE YOUR OWN COMMUNICATION KALEIDOSCOPE.
The Noble: Truth in Action.
The Socratic: Thoughts That Breathe, Words That Burn.
The Reflective: The Sweeter Banquet of the Mind.
The Magistrate: The Good, the Bad, and the Really Ugly.
The Candidate: The Good, the Bad, and the Hardly Ever Ugly.
The Senator: Now You See Me, Now You Don't.
HOW TO USE STYLE TO TALK YOUR WAY OUT OF TROUBLE AND INTO SUCCESS.
Gaining Power without Generating Resentment.
Style, Gender, and the Organization.
Talking with Difficult People.
Using Style to Climb the Corporate Ladder.
Surviving the Group Meeting.
Talking about Sensitive Issues.
Epilogue: I'm Glad I Said That!
Appendix.
Index.