""Radical Academia""? Understanding the Climates for Campus Activists: New Directions for Higher Education, Number 167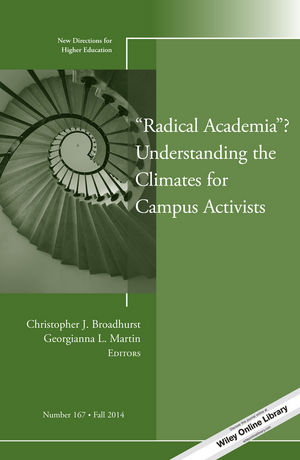 ""Radical Academia""? Understanding the Climates for Campus Activists: New Directions for Higher Education, Number 167
ISBN: 978-1-118-96697-6 September 2014 Jossey-Bass 104 Pages
Download Product Flyer
Download Product Flyer
Download Product Flyer is to download PDF in new tab. This is a dummy description. Download Product Flyer is to download PDF in new tab. This is a dummy description. Download Product Flyer is to download PDF in new tab. This is a dummy description. Download Product Flyer is to download PDF in new tab. This is a dummy description.
Description
Take an in-depth look at campus activism in the 21st century with this issue of New Directions for Higher Education.

Campuses have always experienced an ebb and flow of activism, and the recent displays of student activism on American campuses show that protesters remain a vibrant subculture in American higher education. From rising tuition costs to the need to improve and welcome diversity, activists signal a continued restlessness among the nation's collegiate youth over various issues, expressing their views with a vigor comparable to most periods in American history.

The purpose of this work is to dispel the myths that today's activists are either apathetic or "radicals" determined on disrupting the "establishment." It's also a guide to help higher education practitioners better understand the needs, rights, and responsibilities of campus activists. And, it will help readers understand the best paths to not only allowing student voice, but helping direct that voice toward peaceful and constructive expression.

This is the 167th volume of the Jossey-Bass quarterly report series New Directions for Higher Education. Addressed to presidents, vice presidents, deans, and other higher education decision makers on all kinds of campuses, it provides timely information and authoritative advice about major issues and administrative problems confronting every institution.
Table of contents
EDITORS' NOTES 1
Christopher J. Broadhurst, Georgianna L. Martin
1. Campus Activism in the 21st Century: A Historical Framing 3
Christopher J. Broadhurst
This chapter frames campus activism by introducing the historical movements that have been important for higher education since the 18th century to the present and exploring the connections and shared characteristics among these various movements.
2. The Role of Graduate Student Unions in the Higher Education Landscape 17
Heidi Whitford
Graduate student unionization efforts have made an indelible mark on the higher education milieu, as illustrated by the experiences of students who participated in this movement in recent years.
3. Collective Action on Campus Toward Student Development and Democratic Engagement 31
Adrianna Kezar, Dan Maxey
This chapter explores the ways faculty and staff work with students to support their activism as well as the way students tap faculty and staff to support their movements.
4. Campus-Based Organizing: Tactical Repertoires of Contemporary Student Movements 43
Cassie L. Barnhardt
This chapter elaborates on the range of collective action tactics and organizing strategies that today's students invoke to pursue their ambitions for social change.
5. Performances of Student Activism: Sound, Silence, Gender, and Dis/ability 59
Penny A. Pasque, Juanita Gamez Vargas
This chapter explores the various performances of activism by students through sound, silence, gender, and dis/ability and how these performances connect to social change efforts around issues such as human trafficking, homeless children, hunger, and children
6. Development Through Dissent: Campus Activism as Civic Learning 73
J. Patrick Biddix
This chapter traces two decades of published research on learning outcomes related to campus activism and reports results from a speculative study considering civic outcomes from participation in campus political and war demonstrations.
7. Understanding and Improving Campus Climates for Activists 87
Georgianna L. Martin
This chapter synthesizes the common themes across chapters in this volume and argues that campus activists are an integral part of the higher education landscape.
INDEX 93