¡Vívelo!: Beginning Spanish, 2nd Edition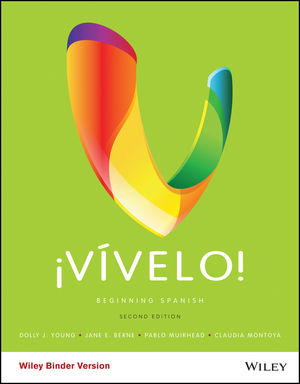 ¡Vívelo!: Beginning Spanish, 2nd Edition
ISBN: 978-1-119-04735-3 November 2015 576 Pages
Selected type:
Loose-leaf
Description
Learning Spanish can be a difficult process but ¡Vívelo! makes it easier by offering a fresh approach. It emphasizes what readers know and can readily do with the language. The book includes activities that are designed to encourage readers to make cultural comparisons and connections. These activities, such as signature searches, information gap and jigsaw, are incorporated throughout the chapters to encourage a better comprehension of meaning with a purpose. ¡Vívelo! also offers metacognitive strategies to facilitate processing of advanced structures. The heavy emphasis on content and experiential learning empowers readers to gain a stronger understanding of Spanish.
• WileyPLUS Learning Space provides a research-based online environment for effective teaching and learning. Students complete automatically graded homework, get feedback on their answers, and access learning materials like the e-text, videos, self-test and interactive tutorials, collaborative tools, and more.
• En vivo Live Language Coaching is new to Edition 2. In small groups, students get together online with a native-speaking language coach in Latin America or in Spain in series of sessions over the term of the course. With real-time video and audio connection, they practice their Spanish in casual, fun, and natural conversations and engage in real, first-person cultural exchange.
• Grammar sequencing changes include earlier introduction of the preterit, later coverage of the present perfect and formal commands, and relaxed pacing in the coverage of object pronouns. Vocabulary from Palabras claves is more consistently recycled in Estructuras claves sections, and grammar structures are recycled throughout the program.
• An increase in output activities helps students better move from comprehension to production; from listening and reading to speaking and writing
• New review chapters (Capítulos de repaso) appear after chapters 3, 6, and 9; these chapters provide additional practice opportunities with more challenging grammar topics.
• Activities in the Edition 2 core text are all meaningful or communicative, and users have substantial opportunities for additional interpretive, interpersonal, and form-focused practice inWileyPLUS Learning Space.
• Functional approach asks first what we want our students to do with the language, then what vocabulary, grammar and cultural awareness do they need in order to do it.
• Connections with a variety of disciplines are explored through activities and problemsolving tasks in which students perform at a high cognitive level, but with realistic linguistic expectations.
• Cultural context in the presentation of new vocabulary and grammar engages students in the construction and deconstruction of cultural perspectives throughout the program.