'Race', Gender, Social Welfare: Encounters in a Postcolonial Society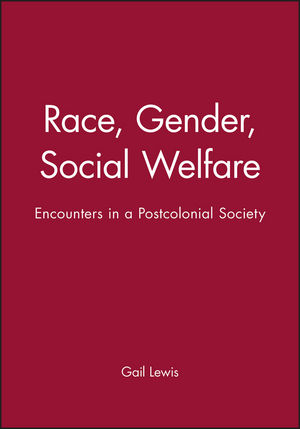 'Race', Gender, Social Welfare: Encounters in a Postcolonial Society
ISBN: 978-0-745-62284-2
Aug 2000, Polity
248 pages
Description
This book explores the relationship between 'race', gender and policy to develop an important and original argument about social welfare and racial formation in the late twentieth century.


The book presents a layered and finely textured analysis of the issue of 'ethnic minority' women in professional social work in Britain. The analysis contextualizes their entry in terms of an understanding of the developing relationship between racial formation and its expression in local and central policy and policy-making. In the process, the author builds upon and greatly extends the current analyses of social policy and 'race' and gender. Using a skilful mix of theory, empirical research and interviews, the book explores the complexities of the racialized and gendered world of the social services department. The result is an important contribution to the literature that draws on feminist, postcolonial, psychoanalytic and social constructionist perspectives to develop an argument about processes of racial formation.


'Race', Gender, Social Welfare will be of interest to students, academics and practitioners in the fields of social welfare, social work, ethnic and women's studies and discourse analysis.
Acknowledgements.
List of Abbreviations.
Preface.
Introduction.
PART I. GOVERNING RACIAL FORMATION.
1. Configuring the Terrain: Governmentality, Racialized Population and Social Work.
2. Now You See It, Now You Don't: 'Race', Social Policy and the Blind Eye of Central Government.
3. Sites of Condensation: Social Services and Racial Formation at the Local Level.
4. 'The Call of the Wild': Contestatory Professional Discourses on 'Race' and Ethnicity.
PART II. COMPLEX ACTS OF BECOMING: WORKING 'RACE' AND GENDER.
5. 'Evidence of Things Not Seen': The Complexities of the 'Everyday' for Black Women Social Workers.
6. Categories of Exclusion: 'Race' and Gender in the SSD.
7. Situated Voice: 'Black Women's Experience' and Social Work.
Conclusion.
Notes.
References.
Index.
'Lewis's demanding pace and unapologetic emphasis on the value of ideas, theory and analysis make this a challenging read in a positive sense.'
International Social Work
'This post-structuralist analysis permits and requires a close engagement with the shifting complexities of everyday experience and connections with overarching structures of power, politics and professions ... the analysis of parliamentary debates is well-handled, tackling this well-worn ground with fresh insight ... Lewis's book provides a rigorous and invigorating analysis which demands that black and Asian women's voices be heard in debates over the provision of welfare.' Ethic and Racial Studies

'Gail Lewis's excellent contribution to this field indicates just what we have been missing. Lewis's analysis of racial formation in social welfare policy and practice provides a textured and thoughtful analysis with important implications' American Journal of Sociology

'Those aiming to shift social work in anti-racist (and anti-sexist) directions have been provided with a solid text addressing issues basic to their tasks ... Lewis provides a richly layered analysis of the complex relations between social policy, social work, 'race' and gender in Britain.' European Journal of Social Work

'Gail Lewis has produced an impressive study, (she) raises important questions about the way we think about the social, about work and about the influence that social policies have on our lives.' Feminist Theory
* This exciting book offers a new understanding of the relationship between issues of 'race', gender and policy within social welfare.

* In an innovative approach, research material and theory are interwoven and a challenging analysis developed.

* The author is well-known and widely published within social work and social policy.