(Re)Thinking ""Art"": A Guide for Beginners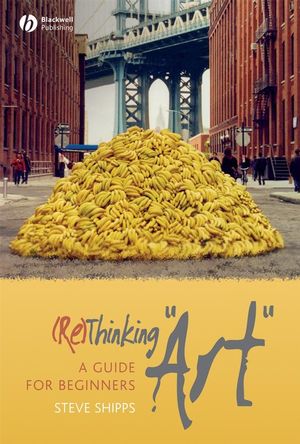 (Re)Thinking ""Art"": A Guide for Beginners
ISBN: 978-1-405-15562-5 May 2008 Wiley-Blackwell 188 Pages
Description
(Re)Thinking "Art": A Guide for Beginners
is a primer that considers the term "art," what it means and why it matters. Rather than being about any particular sort of art —visual or otherwise— the book addresses the idea of "art" in all, in all its messy complexity, and offers meaningful access to the vast array of human products to which it refers.


Written by an award-winning teacher as a response to students' ongoing challenge, "What is 'art', anyway, and why should I care?"

Aims to bring readers into a meaningful relationship with art and teaches them to think critically and creatively about it - and by extension, about anything else

Provides an ideal introduction to the field for students and anyone interested in art today

Offers a jargon-free, common-sense basis from which to approach the theories that dominate the art world today, for readers who may wish to pursue them further
Table of contents
List of Illustrations.
Preface.
Acknowledgments.
Introduction: What's The Big Idea?.
1. Being Human.
2. The History of 'Art'.
3. The 'History of Art'.
4. 'Art,' Lately.
5. 'Art' and Language.
6. (Re)Thinking 'Art'.
7. Pragmatics.
8. Or, Maybe . ..
Bibliography.
Index.
Reviews
"(Re)Thinking "Art" is a wonderful little book, mostly accessible and often funny, that offers a way forward to critical thinking about art. I would recommend it without hesitation for lower-level undergraduate courses." (
Teachers College Record
, December 2008)
"In-depth examination of art told in plain, lively language … [which] will allow seasoned art thinkers to reevaluate and, hopefully, reaffirm their love of art." Art Blog by Bob
Features


Written by an award-winning teacher as a response to students' ongoing challenge, "What is 'art', anyway, and why should I care?"

Introduces readers to what the term 'art' has meant throughout Western cultural history, what it is and what it isn't, and what it might usefully be thought to mean in our time

Aims to bring readers into a meaningful relationship with art and teaches them to think critically and creatively about it - and by extension, about anything else

Provides an ideal introduction to the field for students and anyone interested in art today

Offers a jargon-free, common-sense basis from which to approach the theories that dominate the art world today, for readers who may wish to pursue them further