¡Con brío!: Beginning Spanish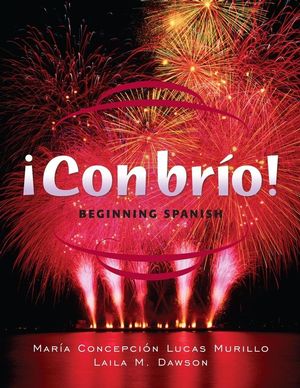 ¡Con brío!: Beginning Spanish
ISBN: 978-0-471-26417-0
Nov 2007
528 pages
Product not available for purchase
Description
¡Con brío! celebrates the rich diversity of the Spanish-speaking world. It helps students become culturally proficient, so they can be at ease when interacting with Hispanics. ¡Con brío! highlights useful and high-interest cultural information. Students learn about the ever-increasing presence of Latino culture in the United States and the strong connection between the U.S. and Hispanic countries.

With ¡Con brío!, students will be able to make the most of their learning experience––whatever their background or personal goals. They'll gain the confidence and skills they need to communicate with Spanish speakers in their immediate worlds, future jobs, and everyday lives. They'll become culturally proficient, and be able to put their new-found skills to immediate use at home, at work, or in the community. And ultimately, they'll discover what makes learning Spanish so exciting and important.

This textbook is available with WileyPLUS, which contains the full online version of this text, plus an integrated suite of easy-to-use teaching and learning resources. Using WileyPLUS, instructors automate the assigning and grading process; create interactive class presentations, and provide students with self-guided practice and context-sensitive help as they work on assignments. Learn more at www.wileyplus.com.

¡Con brío!, 1st Edition is available in the following versions:
ISBN 978-0-471-26417-0: ¡Con brío!, 1st Edition, Main Student Text (with CD-ROM).
ISBN 978-0-471-76360-4: ¡Con brío!, 1st Edition, Annotated Instructor's Edition (with CD-ROM).
ISBN 978-0-470-28086-7: ¡Con brío!, 1st Edition with WileyPLUS (Main Student Text with WileyPLUS).
ISBN 978-0-470-27980-9: ¡Con brío!, 1st Edition, Binder Ready Version (Binder Ready Version of Main Student Text).
1: Primeros pasos.
2: La universidad y el trabajo.
3: La familia y los amigos.
4: El tiempo libre.
5: La comida.
6: En casa.
7: La ciudad.
8: De compras.
9: La salud y las emergencias.
10: El bario.
11: En el trabajo
12: Nuevos horizontes.
Follows current ACTFL standards: ¡Con brío! embeds ACTFL's "Four Skills" (Listening, Speaking, Reading and Writing) throughout the text, and identifies these skills with special icons. ACTFL also identifies "Five C's": Communication, Culture, Connections, Comparisons, and Communities. These Five C's are an important aspect of ¡Con brío!'s pedagogical approach.
Grounds learning in everyday themes and scenes: Every chapter is organized around a theme that reflects either everyday life, work, or community situations. Thus, the majority of the vocabulary, the activities, the cartoons, the culture, and the reading selections are tightly woven around each chapter's theme.
Equips students with vocabulary they will really use: More than 85% of the vocabulary is presented through the escenas. The remainder appears in easily identifiable charts which accompany activities that require use of those particular words or expressions. Special effort has been made to select words that are standard to all Hispanic countries, with lexical variations presented in annotations to the instructor for presentation to the class as needed.
Presents grammar in a meaningful way: In ¡Con brío!, grammar helps students navigate through everyday experiences in their new language. Concise and clear charts, with relevant examples in both languages, allow students to easily grasp grammatical concepts and structures.
Builds skills through a variety of engaging activities: Each ¡En acción! section begins with one or two practice activities which are designed to "ground" the student and build self-confidence, followed by carefully sequenced semi-controlled activities, and concluding with more open-ended, guided communication.Students thus move from comprehension to production and from simpler, contextualized activities to more involved, real-life applications.
Gets students thinking about culture: ¡Con brío! presents culture in a way that evolves from and enhances the chapter's themes.
Reinforces learning through synthesis and review: Each chapter contains a chapter-wrap-up section that offers students the opportunity to converse and write about theme-based topics using the vocabulary and structures learned in the chapter. A scene-by-scene listing of all of the active and passive vocabulary introduced in the chapter is presented to facilitate review. A self-testing feature appearing at the end of each chapter reviews the vocabulary and structures presented in the chapter. The Answer Key that appears in the Apéndice 2 in the book gives students instant feedback.