1,200 Great Sales Tips for Real Estate Pros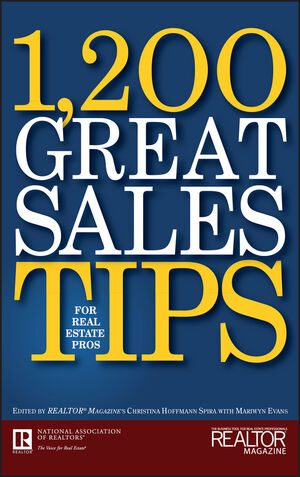 1,200 Great Sales Tips for Real Estate Pros
ISBN: 978-1-118-03909-0 January 2011 272 Pages
Description
Perfect for brokers, agents, and other real estate professionals, this handy guide brings together the best ideas from years of incredibly practical lists and checklists published in REALTOR Magazine. This practical, one-of-a-kind guide is perfect for learning the business of real estate and perfecting the best and most effective tactics and techniques for helping your real estate career and business grow.
Foreword vii
Introduction: Your Seminar-to-Go ix
CHAPTER 1 Prospecting 1
Striking Real Estate Gold
CHAPTER 2 Selling 47
Gain Clients for Life
CHAPTER 3 Know Your Market 91
When You Keep a Pulse on What's Happening,
You Spot Important Changes
CHAPTER 4 Stay Out of Trouble 109
No Joy in Getting Sued
CHAPTER 5 Personal Growth 137
What Would Miss Manners Do?
CHAPTER 6 Professional Development 165
The Well-Trained Shall Inherit the Business
CHAPTER 7 Time Management 197
Don't Sweat the Unimportant Stuff
Additional Resources 215
About the NATIONAL ASSOCIATION OF REALTORS® 249
Index 253