1 Hour Web Site: 120 Professional Templates and Skins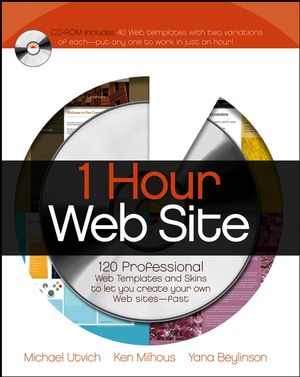 1 Hour Web Site: 120 Professional Templates and Skins
ISBN: 978-0-471-93338-0
Oct 2006
504 pages
Product not available for purchase
Description
Build a high-profile Web presence in an hour!

A high-quality Web site for your business or organization is easily within your grasp using the cutting-edge templates in this practical book. It's all here: 40 professionally designed templates on a CD, plus80 variations--120 designs in all created just for this book--and the step-by-step instructions you need to choose one and customize it using your own content. Use WordPad or any basic text editor on your PC or Mac--that's all you need. The templates also work with any Web application such as Dreamweaver(r)or FrontPage(r).
From simple one-pagers to complex business Web sites to killer blog pages, this book gets you live in one hour, without knowing HTML, JavaScript, or programming.
Select the right template for your Web presence--business, professional services, e-commerce, retail, blog site, and more.
Learn the basics of obtaining a URL, hosting a site, and going live.
Add your own content quickly and easily.
Go live right away with a free month of hosting from nexcess.net (with one-year contract).
Add your own design elements with a free trial copy of Photoshop(r) Elements on CD.
On the CD-ROM you'll find the working Web files for 120 Web templates, some including a Flash movie component. The CD also includes Photoshop Elements tryout version.
System Requirements: Please see the CD-ROM appendix for details and complete system requirements.
Preface.
Acknowledgments.
Introduction.
Part I: Getting Started.
Chapter 1: Understanding 1 Hour Web Site Templates.
Template Power.
The 1 Hour Web Site Suite of Templates.4
Template categories.
Template groups.
About Creating Your Web Site Content.
Your Web site audience.
Design Summary.
Chapter 2: Web Technology for Templates.
A Brief Tour of the World Wide Web.
Internet addresses.
The Web's make up.
Your Web Site is Complete . . . Now What?
Chapter 3: Building Your Web Site.
About the Templates.
The 1 Hour Web Site Design Process.
Step 1: Choosing your template.
Step 2: Building your content plan.
Step 3: Building the site skeleton.
Step 4: Entering content.
Step 5: Publishing your site.
Using Tokens.
Content tokens.
Link tokens.
Page definition tokens.
Token list.
Flash headings and taglines.
Web Site Images.
Image files.
Graphic editing software.
Editing and placing pictures.
Part II: Templates.
Chapter 4: General Business Templates.
About Business Templates.
Company information.
Product-based business.
Service-based business.
Professional practice.
Business services.
Chapter 5: Professional Services Templates.
About Professional Services Templates.
Establishing credibility.
Branding and positioning.
Service detail.
Supporting information.
Chapter 6: Retail Business Templates.
Presenting a Retail Business.
Your business identity.
Branding and positioning.
Retail offerings.
Inspire to action.
Chapter 7: Non-Profit Organization Templates.
Non-Profit Organization Templates.
Presenting a Non-Profit Organization.
Chapter 8: Entertainment Templates.
About Entertainment Templates.
Engaging the audience.
Style and experience.
Specifics.
Audience and community.
Chapter 9: E-Commerce Templates.
About E-Commerce Templates.
Presenting an E-Commerce Site.
Establishing credibility.
Building your value.
Differentiating products and services.
Secure and understandable transactions.
Chapter 10: Information and E-Publishing Templates.
About Information and E-Publishing Templates.
Publishing on the Internet.
Engaging the reader.
Audience networks.
Use and action.
Chapter 11: Community Templates.
About Community Templates.
Building Communities.
Community information.
Calendar and actions.
Recognition and reward.
Chapter 12: Personal Templates.
About Personal Templates.
Presenting . . . You!
Appendix.
Index.
Wiley Publishing, Inc. End-User License Agreement.
Corrected Template 1110


Template 1110 as published on the original CD is missing navigation tabs. Download the corrected files for template 1110.

Download
Corrected Template 920


Template 920 as published on the original CD is missing navigation tabs. Download the corrected files for template 920.

Download
Broken Thumbnail in Gallery
One of the thumbnails in the image gallery is missing. This update corrects the problem.
Download
Chapter
Page
Details
Date
Print Run
Flash files not working properly.
When Adobe Flash Player version 9 was first released, there was a bug that prevented the loading of text and images in templates that contained dynamic Flash media. Per the author, if you have the most current version of the Flash plug-in installed (9.0.28.0+), the Flash movies should load properly. Please note, if the movies are not loading properly you may need to manually uninstall (by following the instructions at http://www.adobe.com/cfusion/knowledgebase/index.cfm?id=tn_14157) and reinstall the Flash plug-in in order to have the most current version.

---

CD
Two templates on CD not working properly - fixed


After publication, we found that two of the html templates did not display their navigation tabs as shown in the screenshots. The files have now been corrected. Click the Downloads tab to get the corrected files.

8-23-2007

---

About the EXE file


The EXE was designed to run on 32-bit computers, not 64-bit computers. If you are on a 64-bit computer, you can simply browse directly to the content on the CD.

8-25-2009

---